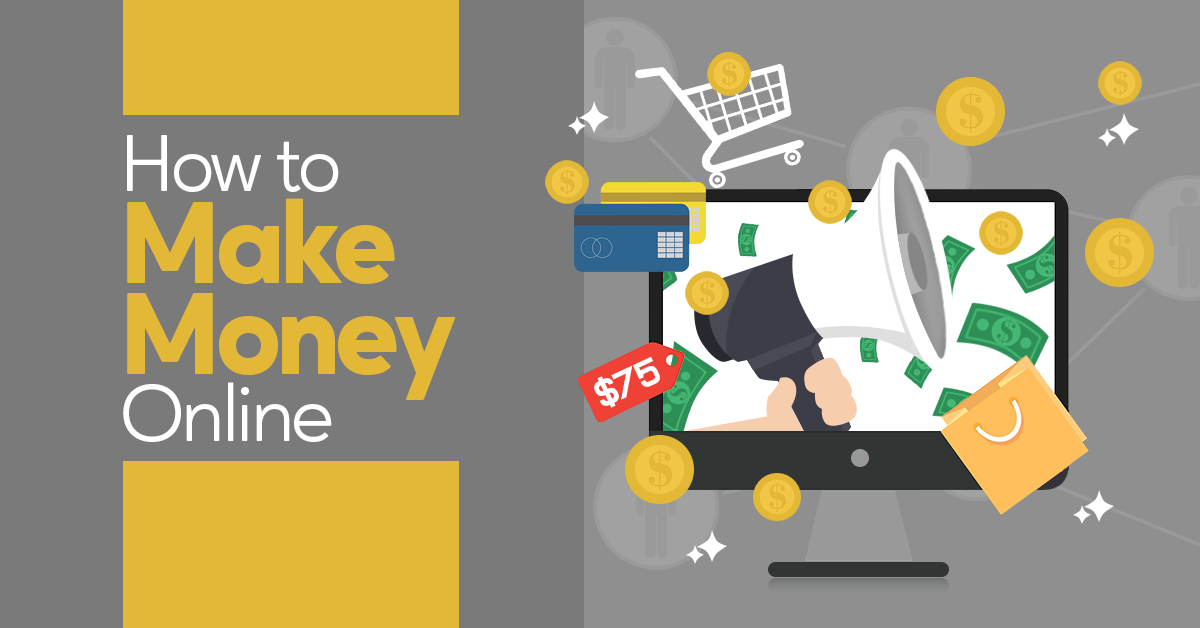 Technology is so amazing. You can open your laptop anywhere that has a decent internet connection and make money online. You can even earn money with your phone while sitting on your couch watching Netflix – it truly is a great time to be alive!
The one thing you need to know about finding ways to make money online is that there is a pretty wide gap in how much you can earn from different online jobs or side hustles. Some can legitimately turn into full-time jobs, while others likely won't earn you much more than what you pay for your monthly streaming services.
To help you understand the differences, I'm going to break this list of 19 ways to make money online into three different categories:
Low effort ways to make money online
Income supplementing side hustles
Online business ideas
I'm also leaving things out like driving for Uber or Lyft because I want this list to only include 100% make money online possibilities, things you can do from the comfort of your home, wherever that might be.
And, the other thing is that everyone will have a different reason for wanting to make money online, whether you're a stay-at-home parent wanting to bring in a little extra cash, are trying to pay off your student loans quickly, saving for retirement, or wanting to leave your day job. Knowing your reasons and end goal can help you pick the best options.
Quick Links
Low effort ways to make money online
Let's just get this out of the way… you will never leave your day job with these things alone. The options in this section will earn you a few bucks here and there which you can put towards your student loan debt, into a travel fund, or for investing.
The upside is that you can do these while standing in line at the grocery store while waiting at a doctor's office, while you're supposed to be watching your niece's recital…
This is easy money stuff, but you're just not earning that much of it.
1. Test websites
Companies like UserTesting need people to test websites, both mobile or desktop platforms. It's pretty simple to make money online testing websites – just visit a site, complete some tasks, and record your thoughts out loud. Each test is around 10-20 minutes long and you will make $10 per test.
2. Earn money with online surveys
Swagbucks is one of the most popular online survey sites, and I did some online survey back in the early days of M$M through Pinecone Research. You probably won't be eligible for every survey out there, but for ones you complete, these companies pay in points that can be redeemed for cash.
What you can earn with online surveys is pretty minimal, like $2-$10 per hour.
3. Make money while you shop
Ibotta pays cash back for offers and bonuses that you claim through the Ibotta app or online. Ibotta works with over 1,500 different brands and companies, and pays cash via PayPal or Venmo.
Here's how you can start making money with Ibotta:
Shop in-store and earn cash by adding offers to your Ibotta account, then upload a photo of your receipt. Cash back is added to your account within 24-48 hours.
Link your store loyalty accounts and redeem offers immediately without uploading your receipt.
Pay with the Ibotta app at over 50 different retailers for an even easier cash back experience.
You can also earn referral bonuses when you share your special Ibotta code with your friends and family — each referral is worth $5.
Ibotta is 100% free to use and has already paid out over $680 million to users.
4. Watch videos
Isn't that what you're already doing on your phone anyway?
InboxDollars is just one of several websites you can earn money for simply watching snippets of things like movie trailers or product promos. The earnings are super low, think around $0.05 per video, but it doesn't get much more mindless than this.
InboxDollars also has other ways to make money online, from surveys, website testing, and games.
5. Perform HITs through Amazon
Through Amazon's Mechanical Turk crowdsourcing site (MTurk for short) you perform human intelligence tasks (HITs). HITs are basically simple tasks that can only be done by a human, like filling out surveys, commenting on blogs, transcribing audio, etc.
Bummer though, MTurk only pays an average of $0.24 per task.
Make money online to supplement your income
The things in this section take a little more engagement, but you'll be rewarded in more money. One of the things these ideas are good for would be to earn few hundred extra dollars per month (or more!) to put towards your debt, save up for a downpayment on a house, etc.
6. Run Facebook ads for small businesses
I'm starting this section with this option because running Facebook ads for small businesses is how I supplemented our income when I started blogging. The idea is basically that online business owners do one thing really well – running their business. What some of them lack, though, are the skills and knowledge to grow their business with Facebook ads.
You can earn around $1,000-$2,000 per month by running Facebook ads for small businesses, and that's in just a few hours a week. If you want to learn more, I took my experience and turned it into a course called The Facebook Side Hustle Course.
Many of my students have grown their mini-digital marketing agencies to include several clients and are earning over $5,000 per month.
7. Rent out a room or your entire house on Airbnb
I love staying in Airbnb's when my wife and I travel, and if you are willing to open your home to strangers, you can earn a few hundred dollars each month. Airbnb will verify guests before they book and lets you pick a schedule that works for you. You'll earn more if you're able to make your house available during high-demand times in your area.
What if you don't have a traditional home? Even if you are a digital nomad who lives on a boat or in an RV, you can rent those out on Airbnb too. I guess it might take a little more work to find a place while someone is renting out your space, but I'm willing to bet that you can find a way to make it work (campout anyone?) if you want to bring in some extra cash.
8. Teaching English online
I hear from more and more people who are making money online with VIPKid. You are basically teaching English to Chinese or Korean students. The hours are flexible, you will make up to $22/per hour, and you don't need a degree in education or English.
Plus, VIPKid gives you the exact curriculum you need to follow. Speaking as a former teacher, the best part of teaching with VIPKid is that there are none of those ridiculous parent-teacher conferences… teachers out there know what I mean.
9. Write and sell an eBook
Amazon has made it incredibly easy to self publish both fiction and non-fiction books. This isn't easy money because writing and selling your own book is really freaking hard work, but if you're passionate about something, why not give it a shot?
10. Become a virtual assistant
Virtual assistants perform jobs and tasks like scheduling appointments, putting together a calendar, answering emails, posting on social media, invoicing clients, etc. There are a variety of places to find virtual assistant jobs online, but with Fancy Hands, you can find clients and make $3-$7 per task.
If you are able to develop a good relationship with a client or advertise your services elsewhere, this can turn into a great side hustle. I've become so dependent on my virtual assistant that I put her on my payroll.
11. Get paid to post on Pinterest
Pinterest virtual assistants pin images and links to Pinterest for bloggers and online business owners. You can start earning around $15 per hour and make as much as $50 per hour.
If you're interested in becoming a Pinterest virtual assistant, the Pinterest VA course will teach you everything you need to know to get started with this side hustle.
12. Make money online as a transcriptionist
Transcriptionists take audio files and type out what they hear. You don't need the training to start with a company like Rev, but you will need to pass a skills test before finding jobs. Transcriptionists can earn anywhere from $15-$45 per hour depending on their level of experience.
13. Find freelance gigs with Fiverr
Fiverr is an online community of freelancers listing their skills and services so that they can find paying clients. You can list services for design work, web development, editing, and more.
14. Sell printables online
From free budget templates to calendars, weekly planners, and meal planners, printables are a great way to exercise your creative muscle. You can sell your printable through your website, blog, or on Etsy.
Start your own business to make money online
Some of the things above could eventually turn into a full-time income, but I'm drawing a line here because the following things can be a little more lucrative. There are still some limitations with these ideas because running any business takes a lot of work to start and maintain.
15. Start a freelancing business
There are a bunch of different types of freelancing jobs you can do to make money online. But, the best freelancing jobs are ones you already have some experience with – you're already a step or two ahead of someone who has to learn an entirely new skill set.
Many of the freelancers I know start their businesses on the side of their 9-5 job, but once their business grows enough, they're able to go full-time with it.
Here are some freelancing ideas:
Website design. For tech people who know way more about website design than the average person, you can leverage your skills to start a freelance web design business. You'll need a website to show off your work, and you can find clients through sites like Upwork.
Graphic design. Graphic designers can create logos, advertisements, banners, cards, brochures, business cards, posters, and more.
Proofreading and copyediting. My editor started her side business with just one client, and after a couple of years, she was able to turn her side hustle into a full-time job. She now has just under a dozen clients and earns around $5,000 a month. Proofreaders and copy editors can work for bloggers, websites, small business owners, non-profits, etc.
Photography. The internet is the perfect place to showcase your work, and besides your equipment, the start-up cost for photographers are low. All you need is a website and social media accounts to find potential customers.
Writing. Most of the big websites you see today have a team of freelance writers working for them. What you earn will depend on your level of experience and your ability to turn out high-quality content. Freelance writing is actually how many bloggers start earning income.
16. Start a blog
As a blogger, I have to include this one, BUT I have one major caveat – blogging is a slow business model overall. Sure, the earning potential is pretty much unlimited, but it can take a ton of time and work before you actually start to make money online.
Successful bloggers have learned to optimize their sites for SEO (search engine optimization), know how to leverage their social media accounts, have grown their email list, monetize their blogs with affiliate income and sponsored posts, and some have even created their own eBooks and courses.
Plus, you have to churn out high-quality posts on a regular basis… whoa, I'm suddenly really tired.
M$M tip: If you want to start a blog, I've created a free resource called Launch That Blog. My team basically sets up a WordPress blog and installs it for you. All you have to pay for is hosting services (just $2.99 per month through Bluehost). Click on that link above to learn more.
17. Start an eCommerce site
We all know that people are shopping online more than they ever have before. It's just really freaking easy to find what you need, click "buy," and move on with your day. You can capitalize on this by starting your own e-commerce site.
You can really sell anything you want, and one of the trends with e-commerce is dropshipping. To make money online with dropshipping, you'll need to create a website, find products to sell, and set your site up with Shopify.
You're not going to make bank right away, but by doing things like running Facebook ads and leveraging other social media sites, you can grow your business.
18. Host a podcast
Podcasting has legitimately been one of the funniest things I've started doing this past year.
M$M tip: If you haven't checked out the Laptop Empires Podcast out yet, do it! My buddy Mike Yanda and I give weekly advice for online entrepreneurs. He's a stay-at-home dad who went from attorney to digital marketer, and we talk about a variety of online business topics.
Just like blogging, starting a podcast can be a slow business model, but I'd say it's just as fun. Many podcasters start on their own and then move to a podcast network once they've grown their audience. You earn money through podcasts through sponsorships and advertisers.
19. Create your own YouTube channel
This is another new one to me – my wife just started her channel a couple of months ago – and again, it's a slow business model that has a huge earning potential. It's insane what some of the highest paid YouTuber's make, but the reality is that most people don't earn that kind of money.
To make money online with YouTube, you will need to invest in a few things, which you can learn about in the link I just gave you, but it's a cool way to reach people on a more personal level.
I know that we have some in the Millennial Money fam who live in America's Hat (a.k.a. Canada). Maple Money has an extensive list of side hustles, with some options for Canadians looking for extra income.