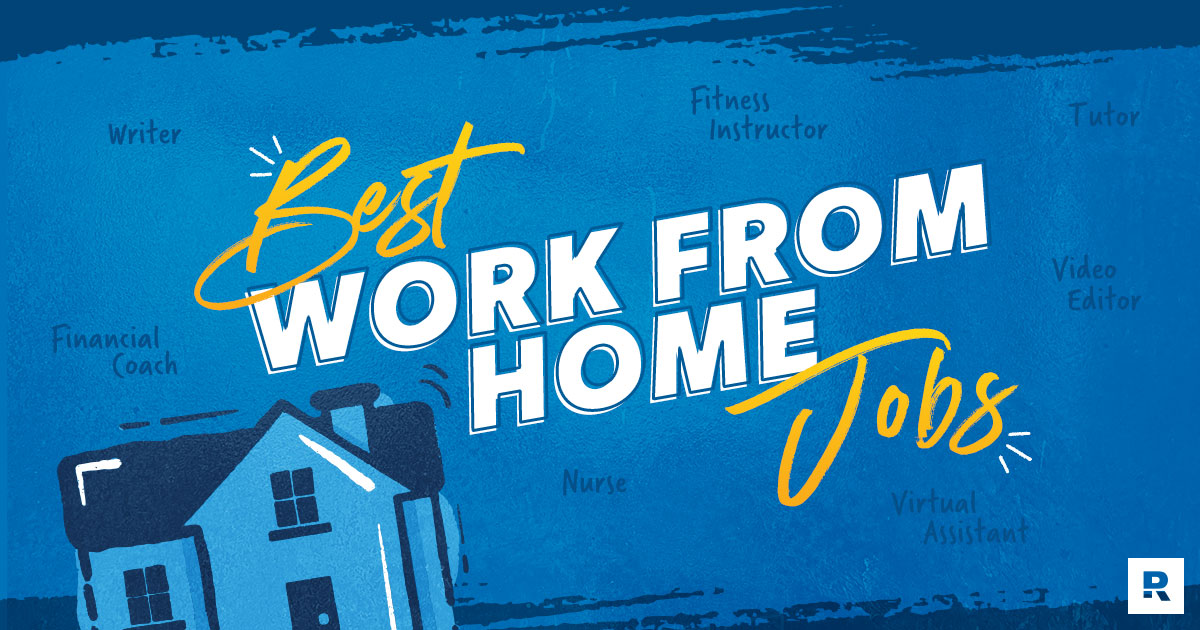 It's 2020, and many Americans who once fought traffic on their daily commute and chatted around the coffee maker in their office have suddenly found themselves with a work-from-home job. And while some people can't wait to get back to their usual in-office routine (and already have), others have discovered they're more cut out for video meetings and staying in their pajama pants. And they still get work done too!
In fact, a recent survey found that 39% of people say they are just as productive working at home as they are in the office, while 29% say they've actually been more productive while working from home.1 To top it all off, a Gallup poll shows nearly 60% of those working from home during the pandemic say they want to continue telecommuting.2
If that's you, then maybe it's time to make this whole working-from-home gig a permanent thing. Are you ready? Here are 14 work-from-home jobs to take a look at. 
1. Transcriptionist
This remote job involves transcribing things like medical notes from doctors, court sessions, professors' lectures and even closed captioning for television!

Ready to find your dream job? We'll show you how.
Job description: A transcriptionist will listen to or watch audio or video files and type up what they hear. Sometimes, they even do it in real time for broadcasts like sporting events or award shows!
Average pay: $15 hourly3
Who it's perfect for: Accurate (and quick!) typing skills, the ability to listen closely, and a background in English or secretarial work are a definite plus. 
2. Virtual Assistant
Here's the truth: People with high-powered jobs can be pretty disorganized. They often just need someone to help them take care of the tasks they don't want to do. Thanks to all that, a job exists for you: virtual assistant.
Job description: You'd handle the usual office duties (but from the comfort of your own home) like replying to emails, data entry, scheduling meetings and organizing calendars. 
Average pay: $16 hourly4
Who it's perfect for: Those who are highly organized and thrive on multitasking and helping someone else stay on schedule will dig this role. 
3. Tech Support Specialist
If you're super tech savvy and able to explain techy things to all of us common folk out there, then a job in tech support might be the right fit for you. 
Job description: A tech support specialist deals with things like virus removal and computer crashes. Depending on the company, the things needing to be fixed can be anything under the sun (technology related). 
Average pay: $19 hourly5
Who it's perfect for: The tech geek (and we mean that in the most endearing way) who seems to be able to fix anything will love this job.
4. Tutor
When you hear the word tutor, you might think of the class valedictorian who stays after school to tutor other kids in the library. But these days, anyone can work from home as an online tutor and make decent money doing it. 
Job description: A tutor teaches students a certain skill or subject using online video conferencing. 
Average pay: $20 hourly6
Who it's perfect for: A former teacher or educator, anyone with specialized knowledge of a specific subject, or someone who finds joy in helping others learn will enjoy working as a tutor.
5. Customer Service Representative
When you call up your favorite store's customer service department, you probably envision the person you're talking to working at a cubical in a big call center. But these days, that isn't always the case. Plenty of big-name companies are using remote employees for customer service, making it one of the best work-from-home jobs. 
Job description: A remote job in customer service might mean you're helping someone place an order or walking a customer through the return process. 
Average pay: $14 hourly7
Who it's perfect for: People with a whole lot of patience—and, of course, those with a knack for talking to others and problem solving—will enjoy this role. 
6. Nurse
If you have a nursing degree and are looking for jobs you can do from home, listen up! Did you know you can work as a nurse over the phone to help your patients? 
Job description: A telephone triage nurse speaks with patients and tends to their needs via the phone or online chat. A lot of times, they help the patient decide whether or not they need to see a doctor, head to the emergency room, or just pop an aspirin. 
Average pay: $75,000 annually8 (Keep in mind that this pay rate ranges based on experience, certification and skill.)
Who it's perfect for: A nurse with a great bedside manner who'd rather work from home than in a hospital or general practice environment is a great fit here. 
7. Social Media Manager
People will pay you to actually spend time on social media all day. Oh yes, it's true. But they're paying you to manage their social media, not scroll your Instagram mindlessly. Big difference. 
Job description: A social media manager helps clients keep up with and grow their social media accounts. This could range from replying to comments and direct messages to preparing content and scheduling posts that drive engagement. 
Average pay: $16 hourly9
Who it's perfect for: Someone who knows multiple social media platforms like the back of their hand, can generate and increase user interaction, and is skilled in growing platforms will thrive doing this!
8. Writer
The pen is mightier than the sword, so put that pen (or keyboard) to work slicing and dicing up some content! Many writers work remotely full time, but it's also a great side gig to pick up in your spare time too.
Job description: Freelance writers get to write on a variety of topics for their clients. Their work can range from writing content and editing to researching and fact checking. The writer has a lot of flexibility to get the work finished during whatever time is best for them—as long as they meet the deadline. 
Average pay: $24 hourly10
Who it's perfect for: Someone with a love and talent for writing and past experience in the field will feel right at home as a writer. 
9. Graphic Designer
You're a creative who craves designing different types of work for a broad range of clients. Working for the same company year after year might not offer you that, but calling your own shots as a virtual graphic designer sure can.
Job description: Design everything from brand logos to ads for clients using art for print or digital media. 
Average pay: $30 hourly11
Who it's perfect for: The creative designer who doesn't want to be tied down by a nine-to-five office gig should give this option a try. 
10. Accountant/Bookkeeper
Are you a numbers person? Then you're in luck! Most people just don't want to deal with the hassle of crunching the digits and balancing the books. Plenty of businesses will gladly pay you to take care of all of that for them. And sometimes it's worth their while to hire someone to take care of these things remotely instead of in the office.
Job description: The ways that accountants and bookkeepers spend their days can vary—but usually these folks handle anything from managing the budget and paying bills to filing taxes and doing internal audits for the company.   
Average pay: $17–20 hourly12,13
Who it's perfect for: The math nerd (we mean that in the most loving way possible) or anyone with a strong attention to detail would crush this job.  
11. Teacher
If there's one thing that's become super clear in this COVID-19 world we're living in, it's that anyone who teaches others for a living is a saint. Many colleges, high schools and even elementary schools are shifting to online teaching, and that's great news if you'd like to work from home while still educating.
Job description: Teach, guide and interact with others as they learn new skills and education you provide.
Average pay: $13 hourly14
Who it's perfect for: Anyone with a background and certification in teaching would lend valuable know-how to this position.
12. Video Editor
As long as you've got video footage, you can edit it together while working from home. Working as a video editor, you can set your own schedule and take on multiple projects (depending on your deadlines).
Job description: Splice together video footage to make one professional, streamlined piece of video content.
Average pay: $20 hourly15
Who it's perfect for: Creative types—people with film, production or an audio background can learn these skills.
13. Fitness Instructor
We all know how important staying active is, but going to a gym to pump iron, run on a treadmill, and sweat in a crowded group setting just doesn't work for some people (can you blame them?). And that's why those people want virtual fitness instructors. You can lead a class and help a client with their form on the bench press without ever setting foot in a gym!
Job description: Instruct others in virtual fitness classes and meetings right from your home.
Average pay: $20 hourly16
Who it's perfect for: Fitness junkies with a heart for teaching others will knock this one out of the park.
14. Financial Coach
If you've been around here for more than five minutes, then you know Ramsey is really serious about helping people take control of their money. That's because we know that getting a solid plan for your money impacts every single aspect of your life. If you get fired up about that too, then maybe you have a future as a financial coach. Based on data reported by our Ramsey Perferred Coaches, you could make $100-200 per coaching session!
Job description: Meet with clients to advise and educate them about money habits and choices they can make to reach their future financial goals.
Average pay: $20 hourly17
Who it's perfect for: Someone with the heart of a teacher, who wants to help guide and empower people to win with money.
The idea of working remotely is exciting, but just make sure you're using your income to help move the needle forward on your goals (like paying off debt or saving up an emergency fund). Don't use the extra cash you bring in to add to your Star Wars action figure collection (as cool as that might be). Instead, be intentional with your budget, and put the money toward your goals!
How to Spot a Work-From-Home Job Scam
Of course, for every legitimate work-from-home job, there are a ton of scams lurking out there—especially right now. Here are three things to look out for:
1. If it sounds too good to be true, it probably is.
Is the job you're looking at claiming you'll make $400,000 right away? Uh, that should give you a major head tilt. If something sounds out-of-this-world awesome and you can't believe it's true—it probably isn't. 
2. If there are complaints about the company, look out. 
We live in the age of Google, so be sure to do your research about the company you're interested in. See what pops up about them on Glassdoor and the Better Business Bureau. You'll have to take some reviews with a grain of salt (disgruntled employees and all), but be on the lookout for people calling them out as scam artists. 
3. If they make you pay money to "work for them"—run.
Look, some of the best work-from-home jobs will require you to have a degree or pass a certification of some kind. That's not what we're talking about here. When a company wants you to pay them $49.95 a month to "work" for them, that should raise a red flag. 
What's the Difference Between Passive Income and Work-From-Home Jobs?
Sometimes, passive income and working remotely get confused for being one and the same, but they're two totally different things altogether. 
Building passive income happens when you can do something a few times, set it, forget it, and let it passively make money. Think of something like renting out a property, building a blog, or even investing. Passive income is great, but it's a lot different than telecommuting jobs you can do from home. 
With most work-from-home jobs, you'll keep up a routine of continually working (to get paid). Sometimes that follows a typical Monday–Friday schedule, and sometimes the job allows for more flexible hours.
Work From Home and Start Reaching Your Goals!
If you're ready to work at home but want to call your own shots, here's one more alternative: Start your own business! It's easier than you think. Our Business Idea Bootcamp course with Ramsey Personality Christy Wright will walk you through how to come up with your business idea and make money doing what you love. So, what are you waiting for? Use this extra time on your hands to start making your work-from-home dreams a reality!