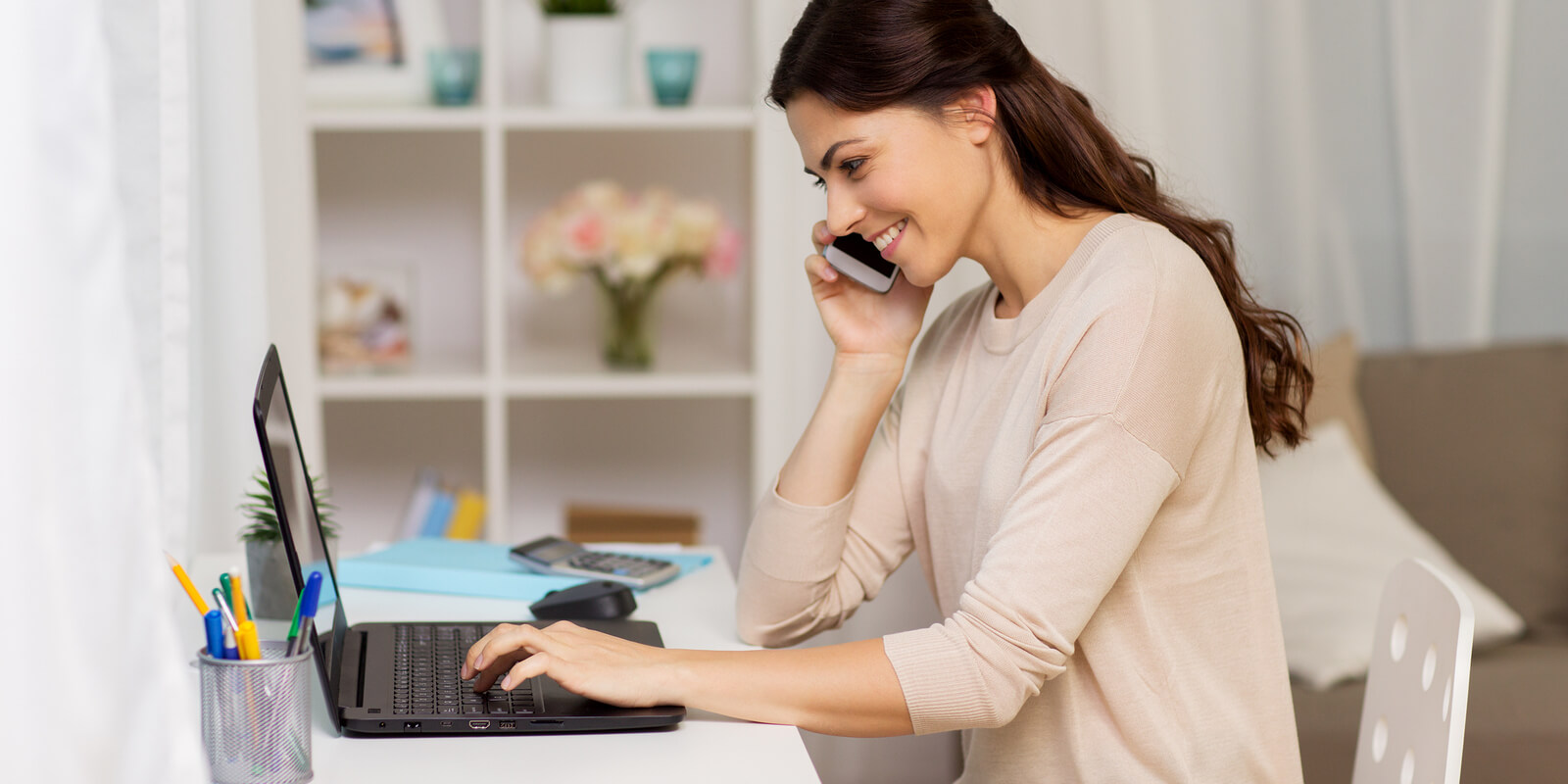 by Christine Bernier Lienke, FlexJobs Senior Researcher and Writer  | August 1, 2019
Looking for an online job you can do from the comfort of your home? Check out these 20 companies that hire for legitimate work-from-home jobs.
Save
Working from home is an excellent way to earn a living while finding work-life balance to manage home and family, or to simply carve out more time by eliminating commuting from your work life.
FlexJobs features thousands of companies with legitimate work-from-home jobs, and we've compiled a list of 20 high-profile employers to help you with your search!
Companies That Hire for Legitimate Work-from-Home Jobs
(The companies on this list may or may not currently have jobs, but click on a company name to get an idea of the kind of jobs it might hire for in the future.) 
1. AbbVie
Based in Chicago, Illinois, AbbVie is a biopharmaceutical company that manufactures and markets therapies and pharmaceuticals created to treat illnesses and various medical conditions. The company now has more than 29,000 employees in over 170 countries worldwide. AbbVie develops products designed to fight serious illnesses like cancer, immunological disorders, women's health issues, and chronic neurological conditions.
Sample job titles at AbbVie:
Associate Engineer
Principal Medical Writer
Oncology Account Executive
2. Airbnb
Airbnb is a popular online platform that connects travelers with people renting out their space. Airbnb provides a safe way to conduct transactions securely. Vacation rentals, individual rooms, bed-and-breakfasts, villas, boutique hotels, and even treehouses and castles can all be found on Airbnb. As an employer, Airbnb offers remote and freelance positions.
Sample job titles at Airbnb:
Global Experiences Ambassador
Social Impact Experiences Ambassador
Pro Referrer
3. Amazon
Amazon is an international ecommerce company known to most everyone with access to the Internet. Headquartered in Seattle, Washington, the company has more than 310 million active customer accounts, and as of 2017, Amazon employed nearly 566,000 professionals.
Sample job titles at Amazon:
Technical Recruiter
Team Manager
Senior Solutions Architect
4. American Express
American Express provides financial goods and services, such as payment and travel solutions, and individual and business financial management. The financial giant has over 63,000 employees around the world and its annual revenue tops nearly $32 billion. American Express hires for remote jobs in a variety of different career areas.
Sample job titles at American Express:
Team Leader, Travel and Lifestyle Services
Travel Consultant/Customer Service
Senior Manager – Client Management
5. Appen
Among the many companies with legitimate work-from-home jobs is Appen. Appen is a technology services company working across a variety of industries to improve products with high-quality data. It helps clients improve products with advanced search engines, social media platforms, ecommerce sites, and more. Headquartered in Chatswood, New South Wales, Australia, Appen supports nearly a million contractors working worldwide.
Sample job titles at Appen:
Web Search Evaluator
Voice Data Collection
Translator
6. BELAY
BELAY helps business grow by providing virtual assistants, webmasters, bookkeepers, and copywriters to clients. In business since 2010, BELAY has been recognized as a national leader in nonprofit and bookkeeping solutions. All of the positions that BELAY hires are 100% remote online jobs with both full-time and part-time options.
Sample job titles at BELAY:
Virtual Executive Assistant
Webmaster
Bookkeeper
7. Conduent
Conduent, headquartered in Florham Park, New Jersey, is an information technology and services company offering a variety of business process services to organizations in more than 40 countries around the world. The company employs more than 93,000 professionals and was officially founded in 2017 following the separation of Xerox into two publicly traded companies.
Sample job titles at Conduent:
Transformation Director
Quality Assurance Junior Analyst
Data Entry Clerk
8. Deloitte
Deloitte is a global business consulting company that focuses on audit, tax, financial advisory, and consulting services. Operating in more than 150 countries, Deloitte is comprised of the following subsidiaries: Deloitte & Touche, Deloitte Consulting, Deloitte Tax, and Deloitte Financial Advisory Services. The company employs more than 264,000 professionals and frequently posts legitimate work-from-home jobs.
Sample job titles at Deloitte:
Recruiting Coordinator
Tax Assembler
Onboarding Assistant Manager
9. Hilton
Hilton is a recognizable hotel management company with a portfolio of 14 brands. DoubleTree, Embassy Suites, and Hampton are among some of the most notable of these brands. Hilton has 5,100 hotels worldwide and over 69 million members. The company has been awarded over 80 accolades related to its workplace environment.
Sample job titles at Hilton:
Manager, Sales Solutions Administration
Senior Lead Cyber Security Analyst
Managing Director, Association Group Sales
10. Joybird
As an online direct-to-consumer home furnishings company, Joybird focuses on selling modern, transitional, and mid-century furniture. Founded in 2014, Joybird creates loyal customers with a one-year trial period for all purchases. As an employer, Joybird promotes flexibility by counting output, not hours.
Sample job titles at Joybird:
Quality Assurance Engineer
Senior User Interface Engineer
Full Stack Engineer
11. Kelly Services
Kelly Services is a staffing company that connects skilled workers with organizations in a broad range of industries. Kelly Services annually provides nearly half a million workers with employment opportunities that includes temporary, outsourced, and full-time placement, many of which are legitimate work-from-home jobs.
Sample job titles at Kelly Services:
Office Clerk I
IT Project Manager
Verification Clerk
12. Lambda School
Lambda School is a newer company, founded in 2017, that provides online computer science education with no up-front costs. Instead, students pay a percentage of their income after landing a job. Classes are held online and last for six months to one year. Online jobs with Lambda school include instructing and advisory positions.
Sample job titles at Lambda School:
UX Instructor
Career Coach
Student Success Front Desk
13. Liveops
Liveops is a cloud-based contact center and customer service-focused company. Headquartered in Scottsdale, Arizona, Liveops serves the high-tech, financial, retail, healthcare, and insurance business sectors. More than 400 organizations rely on Liveops to provide reliable customer service, and the company is known to frequently offer legitimate work-from-home jobs.
Sample job titles at Liveops:
Technical Support – Tax Software
Roadside Assistant App Representative
Community Service Representative
14. Motorola Solutions
Headquartered in Chicago, Illinois, Motorola Solutions provides communications products, solutions, and services. It seeks to "keep business thriving and communities safe" with products and services that include end-to-end platforms, two-way radio, software and apps, video surveillance, pagers, public safety tools, and more. The company hires for legitimate online jobs in the IT, software, sales, and project management sectors.
Sample job titles at Motorola Solutions:
Senior Presales Engineer
Account Manager
Solution Sales Representative
15. Philips
Philips has been operating since 1891. It provides acute care, home healthcare, oral healthcare, energy-efficient lighting, contemporary art, watches, and jewelry solutions. It's known as one of the world's largest electronics companies. The company hires over 100,000 employees across the world. Partial and fully remote jobs can be found at Philips.
Sample job titles at Philips:
Application Specialist – Diagnostic Imaging
Principal Biostatistician
Customer Project Manager
16. Stitch Fix
Stitch Fix is a virtual personal shopping service. It curates collections of clothing, accessories, and jewelry that are hand-selected and shipped to clients' homes. The company hires for many stylists to work remotely in specific cities across the U.S. These roles are mostly part-time.
Sample job titles at Stitch Fix:
Stylist
Security Vulnerability Engineer
Styling Team Lead
17. Tuft & Needle
Founded in 2012, Tuft & Needle is a direct-to-consumer mattress company that sells affordable, high-quality mattresses. In its first year of business, Tuft & Needle made over $1 million in revenue. The company hires for legitimate work-from-home jobs that include remote technical service and customer service roles.
Sample job titles at Tuft & Needle:
Customer Experience Weekend Hero
Technical Program Manager
Full Stack Rails Developer
18. UnitedHealth Group
UnitedHealth Group is a well-known healthcare company comprised of two businesses: United Healthcare and Optum. Headquartered in Minneapolis, Minnesota, the company provides benefits services and healthcare coverage to nearly 139 million clients and consumers worldwide.
Sample job titles at UnitedHealth Group:
WorkLife Advisor
Technical Writer
Strategic Account Executive
19. Walt Disney Company
World-renowned Walt Disney Company and its subsidiaries have provided family entertainment since its founding in 1923. Based in Burbank, California, the international corporation employs a staff of 199,000 people worldwide and is the world's largest media and entertainment corporation. Walt Disney's amusement parks entertained about 150 million guests in 2017.
Sample job titles at Walt Disney Company:
Web Producer
Videographer
Talent Casting Coordinator
20. Williams-Sonoma
Williams-Sonoma is a specialty retailer of quality home products, including cookbooks, high-end gifts, furniture, and more. Headquartered in San Francisco, California, Williams-Sonoma now operates nearly 600 retail stores throughout the U.S., Puerto Rico, Canada, the United Kingdom, and Australia, in addition to being one of the largest ecommerce retailers in the U.S.
Sample job titles at Williams-Sonoma:
Web Digital Designer
Technology Sourcer
Senior Recruiter
The 20 employers above are just a tiny sampling of the many great companies looking to hire for legitimate work-from-home jobs. If you're interested in exploring more, check out our Company Guide, which highlights some of the best companies for work-from-home, part-time, and flexible jobs! The free and comprehensive list offers company profiles, job posting histories, company headquarters locations, and more. Best of luck finding the right online job for you!
Browse The Top 100 Companies with Remote Jobs >>>
Photo Credit: bigstockphoto.com
A version of this article was originally published on March 10, 2019. 
Tags: 100% telecommuting, companies with flexible jobs, flex jobs, work from home
Related Articles
Leave a Comment
We'd love to hear your thoughts and questions. Please leave a comment below!
All fields are required.

Source