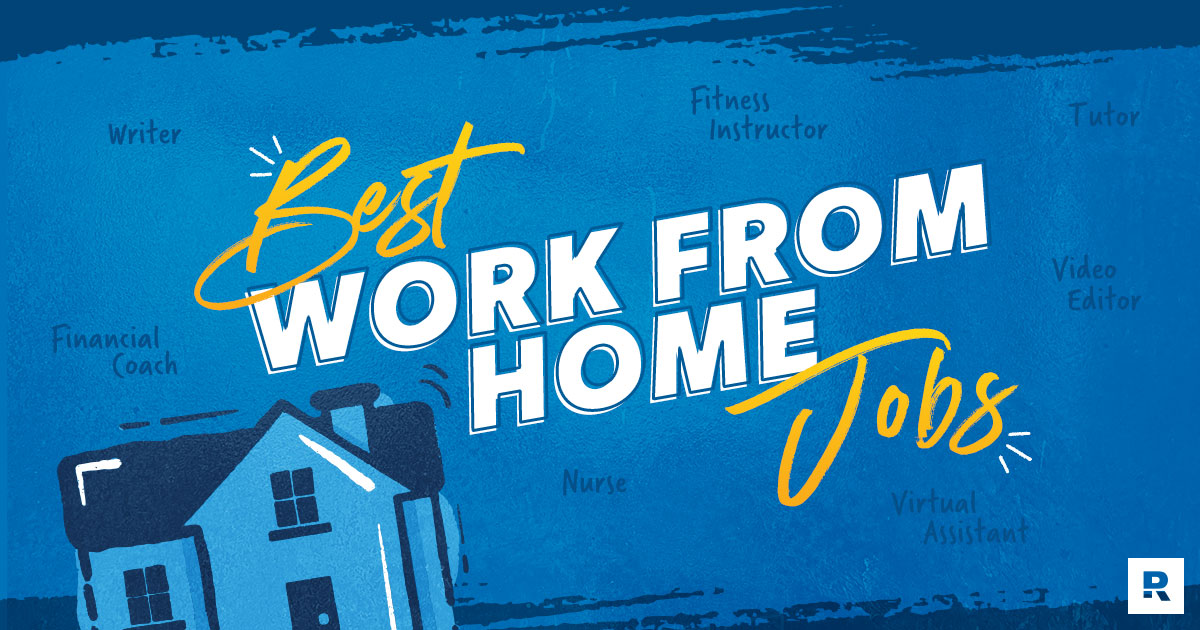 Alright, sometimes jobs you can do from home get a bad rap. Everyone either assumes it's a scam, or they think you stay in your pajamas all day—and maybe you do.
But the truth is, there are plenty of legit, good-paying, work-from-home jobs out there! Whether you're looking for a full-time gig or a way to make a side income to get out of debt or boost your emergency fund, here are some of the best work-from-home jobs. 
1. Transcriptionist
This work-from-home job involves transcribing things like medical notes from doctors, court sessions, professors' lectures and even closed captioning for television!
Job description: A transcriptionist will listen to or watch audio or video files and type up what they hear. Sometimes they even do it in real time for broadcasts like sporting events or award shows!
Average pay: $16 hourly(1)
Who it's perfect for: Accurate (and quick!) typing skills, the ability to listen closely, and a background in English or secretarial work are a definite plus. 
2. Virtual Assistant
Here's the truth: People with high-powered jobs can be pretty disorganized. They often just need someone to help them take care of the tasks they don't want to do. Thanks to all that, a job exists for you: virtual assistant.

Start budgeting like a boss with our FREE budgeting tool!
Job description: You would handle the usual office duties (but from the comfort of your own home) like replying to emails, data entry, scheduling meetings and organizing calendars. 
Average pay: $16 hourly(2)
Who it's perfect for: Those who are highly organized and thrive on multitasking and helping someone else stay on schedule will dig this role. 
3. Tech Support Specialist
If you're super tech savvy and able to explain techy things to all of us common folk out there, then a job in tech support might be the right fit for you. 
Job description: A tech support specialist troubleshoots technical issues and helps with virus removal and computer crashes. Depending on the company, the things needing to be fixed will pretty much run the gamut. 
Average pay: $19 hourly(3)
Who it's perfect for: The tech geek (and we mean that in the most endearing way) who seems to be able to fix anything will love this job.
4. Tutor
When you hear the word tutor, you might think of the class valedictorian who stays after school to tutor other kids in the library. But these days, anyone can work from home as an online tutor and make decent money doing it. 
Job description: A tutor teaches students a certain skill or subject using online video conferencing. 
Average pay: $20 hourly(4)
Who it's perfect for: A former teacher or educator, anyone with specialized knowledge of a specific subject, or someone who finds joy in helping others learn will feel fulfilled working as a tutor.
5. Customer Service Representative
When you call up your favorite store's customer service department, you probably envision the person you're talking to working at a cubical in a big call center. But these days, that isn't always the case. Plenty of big-name companies are using remote employees for customer service, making it for one of the best work-from-home jobs. 
Job description: A work-from-home job in customer service might mean you're helping someone place an order or walking a customer through the return process. 
Average pay: $14 hourly(5)
Who it's perfect for: People with a whole lot of patience—and, of course, those with a knack for talking to others and problem solving will enjoy this role. 
6. Nurse
If you have a nursing degree and are looking for jobs you can do from home, listen up! Did you know you can work as a nurse over the phone to help your patients? 
Job description: A telephone triage nurse speaks with patients and tends to their needs via the phone or online chat. A lot of times, they help the patient decide whether or not they need to see a doctor, head to the emergency room, or just pop an aspirin. 
Average pay: $73,000 annually(6) (Keep in mind this pay rate ranges based on experience, certification and skill).
Who it's perfect for: A nurse with great bedside manner who'd rather work from home than in a hospital or general practice environment is a great fit here. 
7. Social Media Manager
People will pay you to actually spend time on social media all day. Oh yes, it's true. But they're paying you to manage their social media, not scroll your Instagram mindlessly. Big difference. 
Job description: A social media manager helps clients keep up with and grow their social media accounts. This could range from replying to comments and direct messages to curating content and scheduling posts that drive engagement. 
Average pay: $16 hourly(7)
Who it's perfect for: Someone who knows multiple social media platforms like the back of their hand, can generate and increase user interaction, and grow their client's platform will thrive doing this!
8. Writer
The pen is mightier than the sword, so put that pen (or keyboard) to work slicing and dicing up some content! Many writers work from home full-time, but it's also a great side gig to pick up in your spare time too.
Job description: Freelance writers get to write on a variety of topics for their clients. Their work can vary from writing content and editing to research and fact-checking. The writer has a lot of flexibility to get the work finished during whatever time is best for them—as long as they meet the deadline. 
Average pay: $25 hourly(8)
Who it's perfect for: Someone with a love and talent for writing and past experience in the field will feel right at home as a writer. 
9. Graphic Designer
You're a creative who craves designing different types of work for a broad range of clients. Working for the same company year after year might not offer you that, but calling your own shots as a virtual graphic designer sure can.
Job description: Design everything from brand logos to ads for clients using art for print or digital media. 
Average pay: $30 hourly(9)
Who it's perfect for: The creative designer who doesn't want to be tied down by a 9–5 office gig should give this option a try. 
10. Travel Agent
Do you dream of mapping out a Disney vacation with highlighted itineraries for each member of your family? Put your passion for travel and organization to work by being a virtual travel agent! 
Job description: A travel agent plans vacation itineraries and researches the best prices on flights, hotels and entertainment—but for someone else's vacation. 
Average pay: $16 hourly(10)
Who it's perfect for: A super organized person who wants to get their travel bug fix without actually doing any globe-trotting will love this job.  
How to Spot a Work-From-Home Job Scam
Of course, for every legitimate work-from-home job, there are a ton of scams lurking out there. Here are three things to look out for:
If it sounds too good to be true, it probably is.
Is the job you're looking at claiming you'll make $400,000 right away? Uh, that should make your head tilt. If something sounds out-of-this-world awesome and you can't believe it's true—it probably isn't. 
If there are complaints about the company, look out. 
We live in the age of Google, so be sure to do your research about the company you're interested in. See what pops up about them on Glassdoor and the Better Business Bureau. Some reviews you'll have to take with a grain of salt (disgruntled employees and all), but be on the lookout for people calling them out as a scam. 
If they make you pay money to "work for them"—run.
Look, some of the best work-from-home jobs will require you to have a degree or pass a certification of some kind. That's not what we're talking about here. When a company wants you to pay them $49.95 a month to "work" for them, that should raise a red flag. 
The Difference Between Passive Income and Jobs You Can Do From Home
Sometimes passive income and jobs you can do from home get confused for the same thing, but they're two different things altogether. 
Building passive income happens when you can do something a few times, set it, forget it, and let it passively make money. Think of something like renting out a property, renting out items, or even investing. Passive income is great, but it's a lot different than most jobs you can do from home. 
With most work-from-home jobs, you'll keep up a routine of continually working (to get paid), but you'll be doing it all most likely with a flexible schedule that works best for you. 
Make Extra Money to Reach Your Goals
Whether you're a stay-at-home parent just looking for flexible hours to work when the kids are asleep or a full-time employee with a 9–5 wanting some extra cash to toss at your debt snowball, try some of these best work-from-home jobs to help you reach your goals. 
And whatever your goals are, just make sure you're using your income to help move the needle. Don't use the extra cash to fund your Star Wars action figure collection (cool as that might be). Instead be intentional about putting the money toward your debt or saving up your emergency fund!
If you're ready to work from home but don't want to wait for the company to offer you the job, here's one more alternative: Start your own business! It's easier than you think! Our own Ramsey Personality Christy Wright walks you through the steps of how to make money doing what you love in her book, Business Boutique.

Source