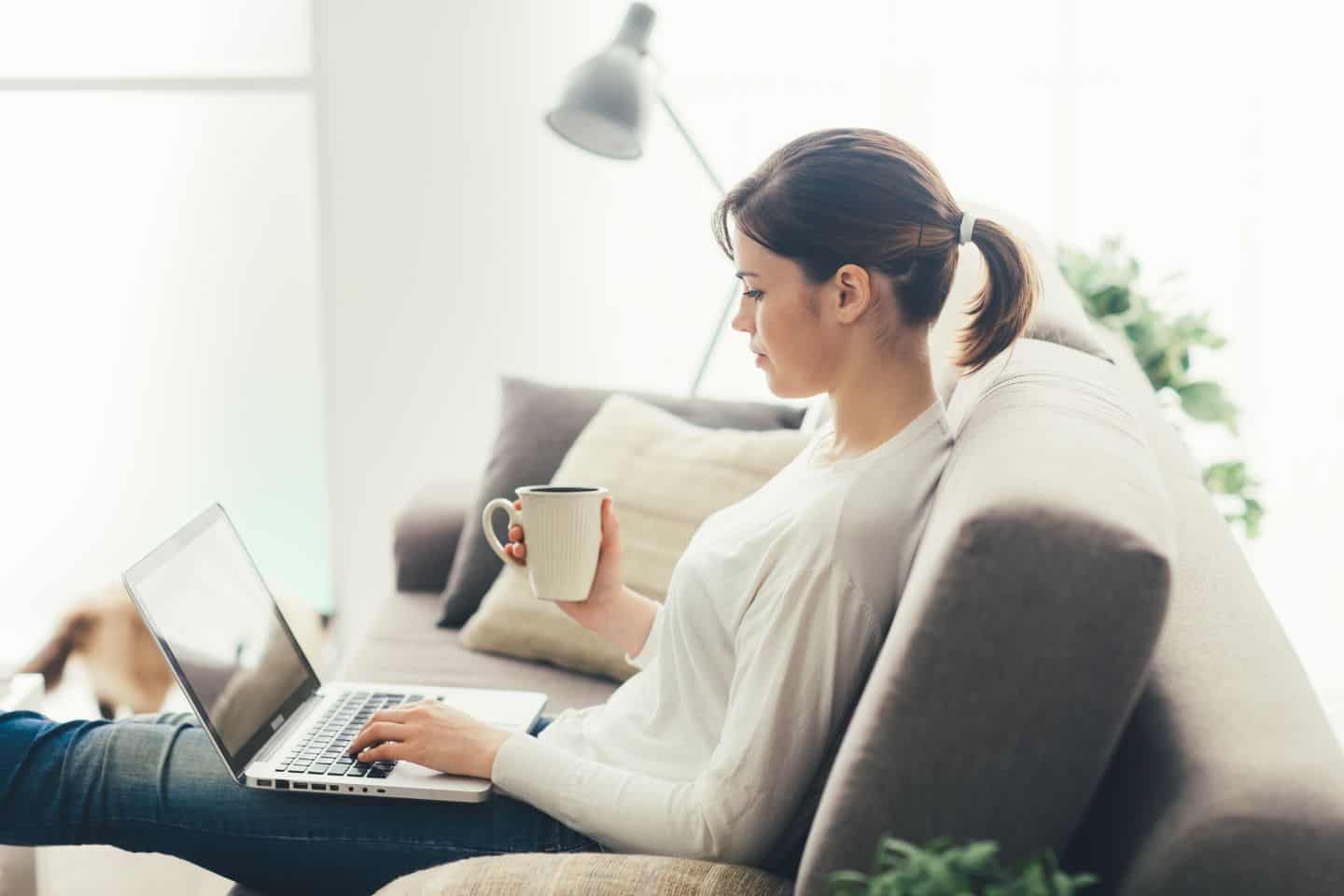 Stokkete | ShutterstockWant to learn new ways to make extra money?Join 1,000,000+ monthly readers in getting updates and cool freebies: Work from home jobs have become extremely popular.115% more popular according to a recent study by Flex Jobs and Global Workplace Analytics.As such, it's no surprise that the 1.8 million Americans that left their jobs between 2005 and 2017 cited greater flexibility, increased happiness, and better pay, as primary factors in their decision to ditch the traditional 9 to 5 grind and work from home.
Statistics from Tecla.io's blog on the global state of remote work.If you are self-motivated and consider yourself a go-getter, a work from home career may be a great option for you.From customer service reps and social media managers, to travel agents and transcriptionists, legitimate work from home jobs provide stay at home moms, college students, and digital nomads alike, the opportunity to earn a living on the go.24 Legitimate Work From Home Jobs for 2019There are opportunities for everyone regardless of your schedule, age, or home-life responsibilities. Determine where your interests lie and determine which of these home-based jobs (or companies) might be a good fit for you.1. Facebook Ads JobsThink about how many local businesses are in your area (not giant retailers like Walmart or Dick's Sporting Goods, but local coffee shops, chiropractors, law firms, etc). Chances are, most of them are not taking advantage of Facebook advertising.These businesses may have a Facebook page, but most are not using them effectively to attract more clients or drive more sales via paid advertising. That's where you can come in: the Facebook ads specialist. The best part about this work from home job is that learning the art and skill of Facebook ads isn't impossible — anyone can pick it up and secure their first client within a month.What do Facebook ad specialists do? As you might expect, Facebook marketers help businesses secure more customers and generate more sales. Specifically, Facebook ads experts help local small businesses:Create Facebook ads based on business goalsReach their target audience/clienteleManage advertising budgets and monitor ongoing campaignsSplit test ad variations to get the highest possible ROI (return on investment)How much do Facebook ads jobs pay? This depends on the results you deliver for your clients. Most Facebook ad agencies — and even one man shows —  will usually charge a monthly retainer as their "management fee" for managing the ads.It's industry standard to charge anywhere from $1,000-$2,000 per month per client, and you don't need previous website or marketing experience to get started. As you bring on more clients and build a reputation in your community for delivering outstanding results, your income can quickly increase. It only takes a handful of clients to start building a full-time income.
How to become a Facebook ad specialist: The easiest way to get started with this work from home job is to take a course that teaches you basic (and advanced) Facebook ad strategy. One such course, the FB Side Hustle Course, will show you how to start managing Facebook ads for local businesses, step by step.Bobby Hoyt and Mike Yanda, two world-class Facebook marketers, created this course to teach you everything you need to know to go from "I don't know how to do any of this" to "working with clients and making a great income". Instead of piecing together an education on your own, and wasting a lot of time and money, this course brings together everything you need to know into one consolidated place.The course helps you quickly master the three phases of building your own work-from-home Facebook ads business:Learning how to set up a Facebook ad system for a local businessHow to find prospects who will pay you for this serviceHow to convert those prospects into clientsIf you want to learn more about Bobby and Mike's backgrounds, and how they've built their own Facebook ads business, check out their story here.Related: 16 Online Business Ideas That Anyone Can Start 2. Virtual Assistant JobsVirtual assistants, commonly referred to as VAs, come in all shapes and sizes.Many companies will hire VAs if they are looking for help with online administrative tasks (email, calendar management, data entry, technical support, etc.), but don't necessarily want to hire a full time employee just yet. VA jobs are the perfect work from home job for busy people that may need to drop their work at a moments notice (or have very sporadic availability).Virtual assistant job tasks include helping with:Social media managementTranscribing conference callsResponding to emails or setting up email listsCalendar managementPresentation preparationAnswering support ticketsA variety of other customer service oriented tasks
How much do virtual assistants make? Gina Horkey, a professional virtual assistant and work from home jobs coach at HorkeyHandbook, says virtual assistant jobs pay between $35.00 and $50.00 per hour. Christine Durst, founder of the International Virtual Assistants Association, says virtual assistants can make between $25,000 and $75,000 annually.Because this job title covers many skills, the income one can earn may vary widely.How to become a virtual assistant: Start by taking a training class that'll teach you the common skills needed to become a virtual assistant. Classes are typically work at your own pace, cost between one and three hundred dollars, and can be completed in just a few short days — a pretty reasonable trade-off for a job that can earn upwards of $70,000 per year.After your initial training, the real work begins. You'll need to scour popular sites such as Upwork and Freelancer looking for work from home job opportunities and new job leads. Also, be sure to completely fill out your profile and list all pertinent skills. Potential clients can search for qualified remote workers and proactively contact them about potential job opportunities.3. Blogging Jobs from HomeBloggers are typically people who enjoy a particular topic and enjoy writing about it on a semi-regular to regular basis. If you have something you are passionate about, or are an expert in a particular area, consider starting a blog. Blogs are a great way to teach people about a particular skill, entertain, or share your life experiences.Bloggers can make money through a variety of different methods including but not limited to: affiliate marketing, accepting paid advertisements, and by selling digital (or physical) products.Here are some popular (and profitable) topics bloggers write about:CookingFitness and healthRelationshipMoneyParentingTravelFashionSportsSelf-improvementCrafts and DIY ProjectsYou really can blog about anything under the sun. What do you love reading about? Enjoy talking to your friends about? Browsing through the most on Pinterest? These are all possible blog ideas.How much do bloggers make? Highly variable. Bloggers can make anywhere between $0 and $150,000+ per month depending on experience level and direct competition.How to start a blog for beginners: HostGator is one of the most affordable options to get a money-making blog up and running. They make it simple and easy to get started (and have everything you need all in one place), which is why we recommend them to ambitious new bloggers.
No experience or technical knowledge needed; check out our step-by-step tutorial to get started.Want to see how we built a $1,000,000+/year blog? In this FREE 7-day email course, you'll join 50,000+ other readers in:Seeing the exact steps we took to earn our first $1,000 blogging (and beyond).Starting your own blog (and learning how to write epic, money-making content).You're in! Check your inbox for your first lesson.4. Freelance Proofreading JobsFreelance proofreading jobs are work from home jobs where a person spends time identifying errors in printed content. If you've got a knack for grammar, can spot typos, or can easily fix egregious misspellings, proofreading may be the thing for you.In 2014, Caitlin Pyle made over $43,000 by working as a freelance proofreader, in her spare time. After she had a ton of success doing that, she decided she wanted to teach others how to do the same thing. That's when she launched her course Proofread Anywhere.
How much does a freelance proofreader make? Pay typically depends on the time a proofreader is able to commit and their experience. According to Salary.com, the median salary for a freelance proofreader comes in at $49,729 per year — a respectable figure when considering that no college degree is required.How to become a freelance proofreader: The easiest way to land one of these work from home jobs is to start out by signing up for a free workshop that teaches you how to become a proofreader. There is no commitment and you'll learn more about the tools and skills you'll need to be an effective proofreader (if interested, there is an option to purchase a paid course at the end of the workshop).Related: How One Woman Made $43,000 Proofreading in Her Spare Time5. Freelance Writing JobsFreelance writers can more easily be thought of as a "writer for hire" or someone who is contracted out to write about a particular topic. If you have some writing chops, but don't want to deal with all the extra work that goes into running a blog, you can hire yourself out and write for newspapers, large online publications and even other bloggers.How much do freelance writing jobs pay? Between $30.00 and $500.00 per assignment, depending on difficulty, a writers experience level, and the length of the material. Veteran freelancers and other remote workers can charge on a per-word basis for lengthy articles that earn them well over $1,000.00.How do you become a freelancer? Start by taking a course that teaches you basic skill required to pursue freelance writing jobs. Holly Johnson, a professional freelance writer at the Earn More Writing School offers one such course. She makes over $225,000 per year freelance writing and shares everything you need to know to get started for less than a few hundred dollars.
After you've mastered the basics, you'll want to create a portfolio of writing samples that you can show to prospective clients. If you want to get a freelance copywriting gig, for instance, start by collecting samples of amazing copy that sells a product. Offer free work to clients to build up your portfolio, if needed.Finally, once your portfolio is complete, you can start to find work on Upwork, Freelancer, or any number of similar websites.Related: 51 Best Freelance Jobs Sites to Find Paid Gigs6. Online Teaching JobsEvery industry is adapting to changes brought on by the internet, and teaching is no different. If you are a (licensed) teacher, you can now start teaching classes online. Classes are usually taught via Skype or pre-recorded sessions.Demand is really beginning to grow for online education solutions as either a supplement to in-class schooling, or sometimes even as a total replacement. Subjects in the highest demand are English, Science, and Math (the core subjects of any education).How much do online teaching jobs pay? Average salary for first-year teachers is $30,000-$40,000. Some subjects pay higher than others.How to get a work from home tutoring job: One of the hottest work from home jobs out there right now for online tutors is teaching Chinese children English through VIPKID. The service is super flexible, you get to set your own hours, and there is no lesson planning involved.
VIPKID provides the lesson plans and communicates with the parents, all you need is a laptop and a desire to help teach  children. Tutors typically earn anywhere from $14-$22 per hour according to their website.K12 is another option for the online teaching space. One of the great things about them is the fact that your job will likely include health insurance, retirement savings accounts, and paid time off. Since you'll be working with kids (even though it's online), you still need to go through the typical hiring process for a teacher: background check, reference check, interviews, etc.Related: 25 Online Jobs that are Easy, Flexible, and ProfitableIf you're looking to land a work from home job fast, consider looking into immediate hire jobs that you can do remotely. These may be independent contractor jobs that you can do on your own schedule, but there are plenty of apps and websites that will help you find work doing something you love.Another benefit of home-based immediate hire jobs is that there's often low-barrier in terms of signing up and getting started. You probably won't need much experience or credentials if you're looking to perform basic tasks. These jobs are also quick-pay, meaning you can get paid as soon as you perform the task often via PayPal.7. Online Survey JobsMost successful companies want to get inside the heads of consumers. They want to better understand potential customers so they can improve products and target their audience better  To do that, sites pay people to take surveys. It's one the easiest work from home "jobs" out there, and it requires zero experience.How paid online surveys work: There are many different types of surveys you can take. From opinion polls, to answering questions about shopping habits, companies will typically ask users fairly in-depth questions so they can improve their marketing tactics. Survey takers are usually paid in cash via PayPal, or with points that can be redeemed for gift cards.
How much do they pay? Between $50.00 and $200.00 per month, depending on eligibility and how many surveys you participate in.How to get paid to take online surveys: Signing up on survey-taking websites is very easy (and free). In our experience, the best survey sites to use are:Swagbucks (free $10 signup bonus)Survey Junkie8. App and Website Testing JobsSimilar to taking surveys for money, companies will also pay regular people to give feedback on their website (how it looks, how easy it is to navigate, how things "flow", etc.) Companies want to know how easy their websites are to use and the information you give them about the process is extremely valuable.Here are some places you can apply for this type of work:WhatUsersDo – Pay is $8 (or more) per test. Tests take around 15-20 minutes (you need a Mac or PC + mic).Enroll – Get paid to test websites before they are published. Earn cash rewards.Userfeel – This company pays around $10 per test.Analysia – Tests take around 15 minutes to complete. Pay is $10 per test.TryMyUI – Tests takes around 15-20 minutes to complete. Pay is $10 per test.You generally won't make a full-time living from a website testing job, but they are an excellent way pull in some extra income on the side.Related: 14 Best Places to Test Websites for Money9. Offer Web Design ServicesIf you 'speak' computer and have a good eye for design, you can make $1,000 (or more) each month by designing websites for small businesses.Business owners want professional looking websites for their space on the internet. If you know some basics behind web design, you can start offering those services to small business. For example, we paid a designer over $10,000 to build our website theme. From branding and color schemes, to ease of use and user satisfaction, web designers help bring a website to life.Adobe Photoshop and Adobe Illustrator are essential pieces of software you'll need to master (and proficiency in HTML, CSS, and JavaScript are a must). Upwork is a great spot to start finding gigs, or you can do things the old fashioned way: cold call or email every small business in your town and drum up business that way.10. Join TaskRabbitDo you like working with your hands and helping your local community? TaskRabbit might be a great way for you to make money working from home.TaskRabbit is a service based app that connects customers with people who can help them around the house. Customers might ask for help doing things like mounting a TV, moving furniture, or cleaning. Workers can also build furniture, help people move, and do home repairs.
To work with TaskRabbit, you need to submit an online application and attend an informational session in your area. After you've completed the registration process, the TaskRabbit app will notify you of jobs in your area.You choose your rates and negotiate job details with the client. Once you've completed the job, you can submit your invoice via the TaskRabbit app. Jobs pay $50 – $130 per task, on average.11. Do Micro JobsAlong the same lines as TaskRabbit, micro jobs sites are great for anyone who's short on cash and can only work in 1-2 hour increments. Micro jobs won't make you rich, but they're generally pretty easy, and they often pay immediately.Plus, if you're spending time on things like browsing the internet, or scrolling endlessly through your phone, you might as well give them a try. For example, Amazon Mechanical Turk will pay you to do light research, process data, and locate images and videos across the web.
Additionally, sites like Swagbucks and InboxDollars will pay you to perform small tasks like watching videos, taking surveys, trying out offers, and searching online.12. Become a Dog or Pet SitterHave a heart for animals? Getting paid to spend time with those furry friends may sound like a dream job then. Rover makes it easy for people to sign up to become a dog walker or pet sitter in their area.This site will allow you to create your own profile so you can set your rates and availability. You can communicate with prospective clients via the site and book paying gigs.Normally, dog walkers on Rover can earn $20-$30 per walk and anywhere from $20-$40 for overnight pet sitting services. Rover does collect a 20% service charge which is deducted from your earnings, but you get to keep 80%.Related: How to Launch Your Own Dog Sitting Business13. Child Care and Babysitter Jobs
Before all the internet job and app sites started gaining popularity, you could always earn money from home by providing childcare services…and you still can.Decide what age group of kids you'd prefer watching, and create a profile on Care.com or Sittercity.com to help you find clients. Also, feel free to ask around because friends or neighbors are often the easiest clients to get.You can offer morning care services to help kids get ready for school, keep an eye on them as parents go off to work, or cover parenting duties while mom or dad runs errands. Something worth keeping in mind is that child care centers are often closed during evening and weekend hours. If you have availability around those times, you may be able to charge premium rates, as there are often less sitters available.Virtual home-based jobs typically require that you do all your work from the computer so you don't have to worry about leaving the house for anything.These jobs may require that you own a laptop, have internet service and have other materials (like a headset) if you're going to be talking on the phone. So long as you can type and have basic computer skills, you have a good chance of qualifying for any of these virtual work from home jobs.14. Virtual Call Center Jobs
Virtual call center agents do everything from sales, telemarketing, customer service, and customer support. It's just like a traditional call center role, only you can do everything from your computer at home.You may have to handle incoming calls or make outgoing calls depending on the nature of the job. Some companies that hire virtual call center reps may prefer some call center experience but most will offer training as well. According to Glassdoor, you can expect to earn a base salary between $30,000 and $40,000 per year to start.If you don't mind talking on the phone and helping customers, this can be a solid part or full-time work from home job to consider.15. Transcription JobsTranscriptionists take audio and video clients and turn them into text. It sounds simple enough, but this work requires a certain level of skill. You'll need to know how to type efficiently and accurately. Some transcriptionists even use special equipment like a foot pedal to start and stop audio recordings.Still, there are so many unique opportunities to land remote transcription work. If you're a beginner, your best option is to sign up with transcription job sites like Rev and Scribie to find paying jobs that you can do on a contractor basis.
You can also offer your services on Fiverr or reach out to companies and entrepreneurs to pitch them for your services. For example, if you like a specific podcast, see if they need someone to transcribe episodes.16. Medical Coding JobsMedical coding is a popular career field and you can actually do this work from home. Remote medical coders are tasked with translating a provider's medical record and services to the correct code for the diagnoses and procedures in order to bill the patient for the correct amount.It's a slight technical job that anyone can learn with the proper amount of training either via an online program or through your local community college. Most medical coders are certified which can help you land an entry-level role. Some companies hire remote medical coders on a contract basis or even as a part or full-time employee.You can search job boards like ZipRecruiter and Indeed to see who's hiring. The average salary for a medical coder is around $60,000 per year.17. Virtual Nursing JobsHave a nursing degree? You can work as a virtual nurse and help people over the phone or via internet. Virtual nurses use the internet to monitor vital signs, connect with virtual command centers to communicate with doctors, advise patients online, and perform other similar duties.You can find these jobs at hospitals and health centers and apply just like you would for a traditional nursing job.18. Search Engine Evaluator JobsIf you ever want to know something, you can just hop on Google, Bing or any other search engine to find more information. Search engine evaluators help search engines continue to be a credible place to find the information you're looking for fast.This is a non-phone work from home job where you'd spend your time evaluating different search engine results to help improve the experience for users overall. Companies like SYKES and Appen hire search engine evaluators, and you typically need to pass an exam before coming on board.To do this job well, you do need to have excellent:Web research skillsAnalytical abilitiesGreat written and communication skillsThis is a non-phone work from home job that allows you to evaluate and help improve the search engine's results so users can find what they're looking for online easily. After applying, you'll need to pass an exam in order to work with most companies but this isn't a super technical job at all.The hours are pretty flexible, and you can expect to work around 35 hours per week.Related: 6 Google Jobs That Are Worth Your Time to Apply to NowFor busy moms, the word 'flexible' is a must in terms of scheduling certain responsibilities. When it comes to working from home, moms might enjoy jobs that allow you to set your own schedule (so you can work when it's most convenient for you). That may mean when the kids are at school or going down for a nap.Fortunately, there are several stay at home mom jobs that focus on deadlines instead of imposing a set schedule. So long as you get your assigned tasks completed by a certain date, you can do the work whenever you like.19. Work from Home Data Entry JobsData entry is a common flexible work from home job to start at the entry-level. Companies may hire you to input data to a software system, transfer information, and update records.It helps if you're a good typist, have strong organizational skills, and place a premium on accuracy. Sites that may hire you for data entry work include SigTrack, Capital Typing, and DionData Solutions.Related: 7 Best Places to find Data Entry Jobs You Can Do from HomeBrowsing social media doesn't have to be a complete waste of time. In fact, if you know the ins and outs of social media, you can actually get paid to:Create and schedule postsManage private messagesRun adsCreate promotionsPost videos and other promotional graphicsMonitor online groupsWhere finding (or creating) content to share on Facebook, Twitter, or Instagram is an exhausting and time consuming task for many businesses, it comes as no surprise that they may try to outsource the task altogether. It's often cheaper to hire an "expensive" freelance social media manager (you) for 20 hours per week, than it would be to hire a 40-hour per week employee with benefits.If you favor one platform over the other, focus on become an expert in that area so you can offer a specialized service. For example, some people choose to become Pinterest virtual assistants, and specifically help clients grow their presence on the site.Related: How to Become a Social Media Manager21. Become a Travel AgentTravel agents have a fun job because they get to help clients find the best deals and experiences for their trips. If you enjoy traveling and helping people brainstorm their dream vacations, you'll enjoy a job like this that you can do from home.Some travel agents become certified, which is not required, but does help. If you complete training through a program like The Travel Institute you'll learn more skills that can help you better serve clients.Typically, working with a travel agent is free for the client. You'll get paid a commission when they book accommodations through you and your partners. Travel agents tend to offer pretty competitive deals for travelers so it's not hard to convince interested clients to do business with you (so long as you prioritize serving their needs).22. Customer Service Representative JobsIf you know you want to work from home but have no idea where to start, customer service is a safe bet. Most companies need customer service representatives and a lot of them are leaning toward hiring remote employees to perform this role.Major companies like Apple, American Express and U-Haul hire work from home customer service agents. Training is usually provided and you get will have to agree to a set schedule but you can expect a variety of shifts to choose from especially if the business is open around the clock.If you don't mind using the phone and have a desire to help people whether that involves solving a problem or answering important questions, consider applying for a home-based customer service job.23. Become an Amazon Remote EmployeeAmazon is an enormous company, which means hiring thousands of workers to make their business function. If you've been looking for legitimate part-time work from home jobs, now is a good time to be on the market.Amazon recently announced plans to add 5,000 remote customer service jobs over the next year. They're hiring for a variety of positions ranging from customer service agents and technical support, to data entry, all the way to supply chain managers.With job responsibilities and requirements varying widely, you'll have to look through Amazon's listings to get accurate job description and reimbursement information.How much does Amazon pay? $10.00 per hour to $50,000 per year, depending on your position and experience level.How to apply: For salary information check out Amazon's Virtual Locations jobs page.24. Direct Sales ConsultingOne of the more common work from home jobs, direct sales consulting, also known as multi-level marketing, has exploded in popularity over the past ten years.This is the stuff like Plexus, Avon, Beachbody and Thirty-One that you see littering your Facebook feed on a daily basis. If you want to get a taste of working from home and want to sell products you already use and love, this may be an option.It is worth noting that nearly all of these programs require an upfront investment for purchasing your initial inventory. They're not our first choice when it comes to work from home jobs for this reason alone. We don't like seeing users getting stuck with thousands of dollars in inventory only to realize they're trying to offload their LuLaRoe into already saturated markets.Related:  40 Easy Ways to Make Money FastWatch Out for Work from Home Job Scams
'Work from home jobs' has become a huge buzzword over the past few years and we definitely understand why. Working from home sounds super appealing. You can work from your bed while in your pajamas, avoid a hectic daily commute and possibly have more control over your schedule. However, some people have taken advantage of the common desire to work remotely. For each legitimate work from home job out there, there is just as likely a scam to match it. Jobs that ask you to post ads online, stuff envelopes, or assemble products and crafts from your home are all likely scams.It's important to know how to weed through these work from home scams so you don't waste your money or time. Realize that if something sounds too good to be true, it likely is. Avoid Work from Home Job Ads that Claim:You can get started today with no experience (unless it's for a micro job or a site like Swagbucks, it's probably a scam).You can earn $500-$1,000 per week 'guaranteed'. Avoid these jobs especially if the role seems super easy. If it were that easy to make a ton of money every week, wouldn't everyone be doing it?You need to pay for a start-up kit or training. There are plenty of real work from home jobs that may require an upfront purchase, but spend a little extra time vetting these opportunities. You're asked to send or collect money orders or deal with Western Union. This is a huge red flag.To crank up your scam meter when searching for the ideal work from home job, make sure you carefully assess the credibility of the job offer and the company offering it. You can do some research on the company to see how long they've been around, or look for honest reviews of the position online. You can also check to see if they are accredited through the Better Business Bureau (BBB) and have a good rating. Even if they aren't accredited, you may be able to see their rating and if they've received negative complaints. Finally, don't ever pay someone money to start a job. Legit Work from Home Jobs Are Everywhere, But Be CarefulThe rise of the internet has created opportunities that didn't even exist just a few years ago. A high demand for remote workers, especially in the tech industry, has led to the largest voluntary exodus from the in-person workforce in almost twenty years.Virtual assistants, social media managers, online support specialists, and work from home data entry jobs are but a few of the high-paying digital positions that didn't even exist just a short while ago.If you're not thrilled about hustling to the workplace each morning, or you're looking for part-time work outside of your normal job, there has never been a better time than now to get started with one of these legitimate work from home jobs.Related:  25 Legit Ways to Make Money Online Author
Hi! I'm Ben. A personal finance nerd on a mission to help DollarSprout readers make and manage financial decisions. A quoted contributor for Business News Daily, Business.com, Discover Bank, Moneyish, Student Loan Hero, Policygenius, TechRepublic, and more, I work to help others live their financial best life. 666,466

Source