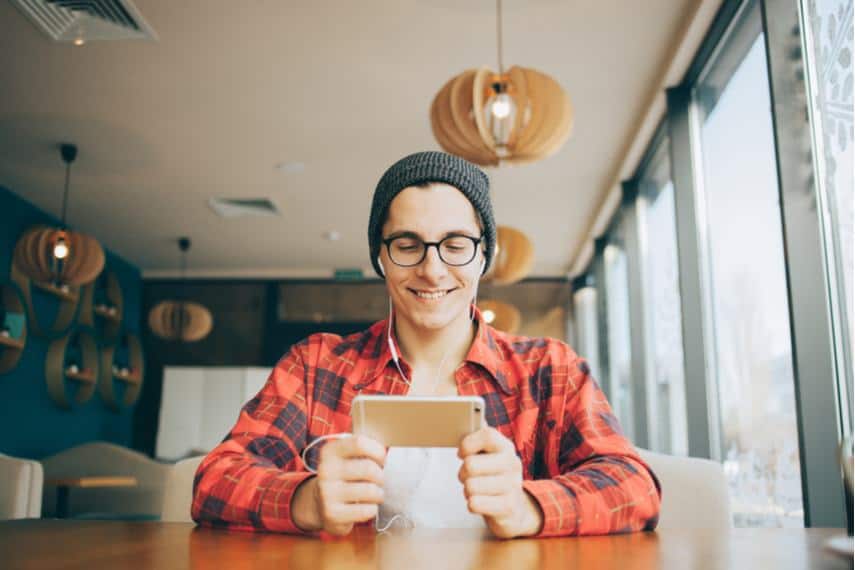 Fizkes | ShutterstockWant to learn new ways to make extra money?Join 1,000,000+ monthly readers in getting updates and cool freebies:
As long as you have an internet connection, you can legitimately figure out how to make money online from anywhere in the world.Instead of scanning through Facebook, stalking your ex on Instagram, or determining which Hogwarts House you belong to via a BuzzFeed quiz, let's get you doing something much more productive with your time.Whether you're a stay-at-home mom with napping children, a college student in between classes, or someone with only part-time work, even the smallest window of opportunity will allow you to earn money online.To get you started, our team scoured the web, consulted other side hustle experts, wracked our brains, and drafted the most epic list of money making ideas for you to try, starting today.Low effort, low commitment, and without investment. The ideas in this section are all about quick and easy ways to make money online (and better yet, you can try them all for free).1. Switch to a High-Yield Online Savings AccountDo you have money sitting in a savings account that's paying less than .09% interest?If so, or if you don't have a savings account at all, it may be worth your time to spend a few minutes opening a high-yield online savings account.Online savings accounts usually come with substantially higher interest rates that will help grow your money faster — over 20 times higher than the national average.They can afford to do this because they don't have to pay for brick-and-mortar bank locations, which drastically lowers their cost of conducting business. They then pass a portion of these savings to you, the customer, by offering great interest rates on their banking products.Better yet, on top of ultra-competitive interest rates, online banks often offer large one-time deposit bonuses to new customers. These deposit bonuses can reach as high as $500, with the only requirement being that a minimum balance be held to unlock the bonus.Once a predetermined holding period expires, usually 1-3 months, you're free to withdraw your money along with the captured deposit bonus. Think of it like travel hacking, except you're doing it with savings account deposit bonuses.If you're interested in even higher returns, be sure to check out the best apps for investing money online.2. Participate in Market Research
Market research companies like to collect data on consumer trends and spending habits so major brands can learn how to better market their products.This research is most often conducted via online questionnaires, and they're always on the lookout for new survey participants.If you're a first-time survey taker, we recommend starting out with Swagbucks. They're currently offering a free $10 sign-up bonus and they're the largest legitimate survey site in the world.Here's how Swagbucks works:✔️ Register: Build your profile (takes less than 5 mins).✔️Earn Rewards: Complete surveys and earn rewards in the form of "Swagbucks".✔️Get Paid: Redeem your Swagbucks for PayPal cash deposits or e-gift cards.If you've ever spent time taking paid online surveys, you know that you can earn money online every month while sitting at home in your PJs. You won't get rich, but a few minutes a day generally adds up to a few dollars, and few dollars a day is enough to cover a utility bill by the end of the month.Other survey sites we like include:Survey Junkie – Up to $45 per survey.Vindale Research – $1 sign-up bonus.If you'd like in-depth information about the survey sites before getting started, you can read more about them in their respective DollarSprout reviews.Swagbucks Review | Survey Junkie Review | Vindale Research Review 3. Leverage Gig Apps
Inaction is often the byproduct of not keeping things simple. In short, stop looking all over the place for some weird way to make money and just get started with something.An easy way to do exactly this is to leverage money making apps. Top trusted online earning sites, such as Lyft and Postmates, are just two of the many gigs where all you need is a smartphone and vehicle to get started. These companies on connect people looking to make extra money with consumers who need their services.If someone needs a ride somewhere, you give them a ride through Lyft.If someone can't go grocery shopping, you grab their grub and deliver it to them through Postmates.No exhausting job search. No interviews. Just an application and a background check and you've got yourself a new side hustle in just a few days' time.How to get started with Postmates:First, start by downloading the Postmates app and following the setup instructions.Once you're accepted into the driver fleet, Postmates will send you a free delivery bag and prepaid card so you can get started.Postmates requirements:Be at least 18 years of age.Motor vehicles used for delivery must be properly insured.You can deliver via car, truck, van, motorcycle, scooter, bicycle, or even by foot.You must consent to, and pass, a background check.An Android or iOS device capable of running the app.Next, watch this short video by Jon from The Rideshare Guy. He does an excellent job explaining the ins and outs of the app and shares a few tips on how to earn money online with Postmates' surge pricing feature.Be strategic about the number of orders you take on and where you deliver to. Subtle changes in your delivery routine can make or break your expected hourly earnings.Strategies that can boost hourly earnings include:Stacking multiple deliveries within a one-hour period.Keeping track of high ROI areas in your town.Leveraging blitz pricing and otherwise high-volume order times.Being personable and delivering order receipts in person (increasing the likelihood of receiving a tip).* Postmates is available in many, but not all, cities. Check Postmates' homepage to see available cities near you. 4. Cash in on Sign-Up Bonuses
Want $15 for a few minutes of your time? Of course you do.Lucky for you, rewards sites like Rakuten (formerly Ebates) and Dosh can make that happen. These sites offer cash incentives for people to download their apps.What's the catch? None, really. The above apps, and other cash back apps like them, act as affiliates for online merchants. Whenever you make a purchase through one of the apps, they get a small commission from the store. They then pass a portion of that commission back to you as "cash back".Example #1: You buy a pair of Nike shoes through the Rakuten app. Rakuten gets a $10 commission because you purchased the shoes through them, but then they give $7 of it back to you. It's basically a way to get sale prices on things that aren't otherwise on sale.Better yet, you can sometimes double (or even triple) dip and use the apps on top of normal store sales and coupon offers.Example #2: Nike has a site-wide 20% off sale. Rakuten offers an additional 8% off and you have a store coupon code, for $10 off, that you found on the internet. A $60 pair of shoes suddenly comes in at $36. Not bad.Since they're free, we recommend signing up for both. Any time you go to make an online purchase, just compare deals between the apps and use the best one.For more information on the cash back apps (along with savvy hacks for earning more money), check out their respective reviews.Rakuten Review | Dosh Review5. Try Trim
They say a penny saved is a penny earned.That same adage looks a lot better when those pennies are replaced with dollars. And while this next app doesn't exactly allow you to make money per se, it's importance can't be understated.Enter Trim. An app that can save you hundreds of dollars a year with almost no effort on your part.How is this possible?Well, Trim starts by taking a look at your monthly spending and then looks for places where you're overspending — like abnormally high bills or subscriptions you forgot about.You might be surprised to see how much you're spending on things you don't really need.The best part about Trim is that it can actually lower your bills.Once the app shows you all the subscriptions you spend money on, you pick the ones you want to cancel and Trim does it for you. Next, the app goes after those high bills and actually reaches out to the companies on your behalf to negotiate a lower payment.There's almost nothing in this world that we hate more than high bills and elevator music. Let Trim handle both for you.6. Make Money Online by Watching VideosI mentioned Swagbucks earlier as a reputable survey site, but it turns out that taking surveys isn't the only thing they'll pay you to do.You can also make money with Swagbucks by watching short, ad-like videos on a wide variety of topics (like entertainment, news, sports, and more).Perks include:A $10 sign-up bonus for new usersThe ability to watch videos on your computer, tablet, or mobile phoneA wide array of entertaining clips from leading content sitesAgain, you won't get rich by doing this, but if you have time to kill (maybe in a waiting room, on the bus, etc.) and don't mind watching videos, this is an easy money-making option.7. Earn Money Online by Surfing the Web
InboxDollars is a market research company that pays you to use their search engine instead of some of the more prominent ones like Google and Bing.The idea here is that they will learn more about people search habits and uncover patterns that may be valuable to companies trying to better understand consumers.InboxDollars isn't a get-rich-quick scheme, but if you're looking for a low-effort way to make a little bit of extra money for free, it's worth checking out.Here's how InboxDollars works:$5 sign-up bonus for new users.You get $0.15 for every 29 qualified searches you complete.Get $0.05 each time you enter searches on 4 or more days in a week (Gold Members get $0.10).Want to learn more about InboxDollars? Check out our InboxDollars Review.8. Download the Nielsen App
Have you heard of Nielsen, the company that tracks TV ratings? Turns out they collect data on a lot more than just TV.One area they're really into is internet usage research.What does that mean for you? It means Nielsen will pay you $50 a year to keep their app on your favorite internet-browsing device.The app itself collects statistics on your internet usage anonymously, so you never have to worry about any data being linked to you.How the Nielsen Computer & Mobile Panel works:Noninvasive, requires little storage space, and won't impact device performanceAfter you've installed the app, just use the internet as normalYou'll earn $50 for the first year you have the app installedNielsen tries to sweeten the deal by giving away $10,000 each month in addition to various other rewards and sweepstakes.9. Get Your Workout On
Mobile app creators have found a way to monetize every subject on Earth. The fitness industry is no different.While most apps try to get you to spend money, some apps have built-in ways to make extra money.Companies like Sweatcoin and Achievement (formerly Achievemint) have developed apps that collect data about your physical activity and "pay" you for that data. (The apps sync with the existing health apps on your smartphone or smartwatch so they're not any more intrusive than what's already on your phone.)Using them is easy. All you have to do is download one of apps and let it passively run in the background.Users will then collect points for daily activities such as walking or running, among various other workouts. The points (or sweatcoins) have cash value and can be redeemed by withdrawing through major e-wallets like PayPal.
● Daily earnings cap of $5 for their free plan.● Paid versions of the app allow users to earn $20 per day or more (free 30-day trial for any of their 5 paid plans).● Earning with the app is more hands off.● 5 free sweatcoins for referring family or friends.
● Offers a more diverse range of ways to earn points.● From posting health-related tweets and logging food intake, to completing surveys and tracking workouts, virtually every activity with a health tie-in can be tracked.● 10,000 points is redeemable for $10.● 100 free points for referring family or friends (max 20 referrals).Our advice? Get both and let them passively run. You won't get rich, but daily upkeep with the apps will net you $20-$50 per month — a fair price for allowing them to track something that is tracked by Apple or Google on a daily basis anyway.If you're really serious about shedding some pounds, you can use your winnings from Sweatcoin and Achievement to fund a weight loss bet.With HealthyWage, users select a goal weight loss, place a bet, and choose a timeframe for achieving their goal weight. Their proprietary algorithm determines your payout, which can reach as high as $10,000.
The process is pretty simple:1. Use the HealthyWage Prize Calculator to determine your prize amount.Using the HealthyWage calculator, decide how much weight you want to lose (minimum 10% of your starting weight), how much money you're willing to bet ($5 to $995 per month), and how long you need to reach your goal (6 to 18 months). Play with the numbers using the HealthyWage calculator until you're satisfied with your prize.2. Sign up for an account to place your bet.You'll need to answer a few questions about yourself (height, weight, waist size, etc.)3. Verify your weight.Don't head to the gym yet! Your weight loss timer doesn't start until you verify your weight. In fact, you'll need to do this at least twice — once when you place your bet and again at the end of your wager period. Verification can be done from home by uploading a video to the HealthyWage website.4. Lose weight, win money.If you accomplish your weight loss goal, HealthyWage will pay you via PayPal or paper check. If you don't reach your goal weight, your monthly contributions will be used to support HealthyWage and pay future winners.To learn more, visit our HealthyWage review or their Frequently Asked Questions page.10. Sell Used Items
Selling unused or unwanted items at market has been around since the dawn of time. The only difference now is where that selling takes place.For a good many of us, the thought of stepping outside and actually speaking to another human is a scary proposition. On the other end of the spectrum, there are certain people that get a rush out of negotiating a good deal on the sale of an item.Tips on getting the most money for your used items:Look at the fees. Some online platforms can charge listing, sale, and other assorted fees that cut into profit.Weekends are the time to sell (post payday).Time of day matters. Don't have online auctions end at obscure hours.Always set the price of an item at the top-end of its value range.Sell high-value, high-margin items online (larger pool of prospective qualified buyers).Spend time on your item description. Studies have repeatedly shown that great item descriptions increase final selling price.Create urgency. Subtle words or phrases in your listing such as "one of a kind", "rare", and "limited time only" if applicable have been shown to increase sale price and conversion rate.Where to sell items online:Facebook Marketplace. Not the most flashy but sometimes simple is best. No listing fees, deal locally, quick turnaround times.eBay or Etsy. Large marketplaces mean more eyeballs. If your target audience isn't on a small platform, there is reduced competition for your item.Cash offering apps like Decluttr. While you won't make as much as you may in a private sale, cash offer apps produce an immediate cash quote for your item and quickly pay you upon delivery of the item to one of their shipping centers (good for low-end electronics).BookScouter. Like Decluttr, the online bookstore gives immediate cash quotes for textbooks and other scholastic goods. BookScouter allows you to submit a book's ISBN to 42 different vendors so you can see who is offering the most for your book.If you have unwanted, good-condition items laying around your house just collecting dust, get rid of them. Think of them as depreciating assets that are losing value daily.11. Get Paid to Test Websites
Website testers give their opinions on websites, including the design, quality, and ease of use of a site. This allows companies to make changes to their websites in order to provide a better experience for their users (and hopefully increase sales).Of course, they are willing to pay for your feedback, which makes this one of the easiest ways to make money online without having to paying anything yourself.A few sites for getting started include:UserTesting: $10 for every 10 to15-minute test completed.WhatUsersDo: $8 for 15 to 20-minute tests. You'll need a microphone.User Conversion: $10 per study. Get started in as little as 5 minutes.Other website testing sites include Enroll, UTest, UserFeel, TryMyUI, and Userlytics.See Also: 8 Ways to Get Paid to Test Products at HomeWe're picking up the pace now. These online side hustles require a bit more effort, and often a small upfront investment, but your income potential is significantly higher.12. Become a Freelance Writer
The term "starving artist" definitely does not apply here. There are many successful freelance writers out there who've used their business to replace their full-time job.You don't need a background in English or writing to make it as a successful freelance writer.For instance, Holly Johnson from Club Thrifty started doing freelance writing on the side with no real background, and now makes over $200,000 per year from her writing.She recently put together a free workshop where she teaches others how to get started earning money online with writing.How to Build a Six-Figure Writing Career:Learn the techniques Holly's used to build her writing income to over $200,000/year.Get actionable tips to get your foot in the door and increase your income over time.Gather positive testimonials and expand your online presence.The course itself has three tiers, each with different perks. The base tier comes in at $199 — a fair price when considering the earnings potential of landing just a few regular clients. It's not free, but Holly's knowledge is second to none.13. Become a Freelance Proofreader
Does the incorrect use of there, their, and they're drive you crazy? Put your eagle eyes to good use by earning money as a proofreader.Caitlin Pyle of Proofread Anywhere made $43,000 her first year as proofreader, in her spare time, while studying abroad. Impressive, right?Once she realized demand for the skill was high — far too high for one proofreader to fill — she created an online course to help others start their own proofreading business.She also has free workshops almost every day.In Caitlin's free workshop, you'll learn:What a successful proofreader does (and doesn't do)How to elevate your skills to become a successful proofreaderWhere to find high-paying proofreading clientsIt'll take a few weeks to learn the course material, and likely a few more to start acquiring clients, but talk about flexible. From working at home and setting your own hours, to choosing your workload and setting your own rates, it's hard to beat a lifestyle that you have full control over.14. Become a Virtual Assistant (VA)Writing and proofreading aren't for everyone. Some people prefer more administrative or data-oriented tasks, which is exactly the role of a virtual assistant.Businesses use virtual assistants for things like booking travel, answering emails, social media management, email management, and more.As a virtual assistant you can choose which services to offer clients and at what rates. The more value you can provide, the more you can charge.Some stats about VAs:The average North American virtual assistant earns between $35 and $50 per hour.There has been a 95% increase in demand for VAs over the last three years.There are over 150 different services you can offer as a VA.
The great thing about virtual assistant work is that it almost always opens the door to bigger and better opportunities.Be it an expanded or full-time role within the company you work for, a lateral transfer to a new company, or a huge leap forward because of the skills you learned on the job, VA work has quickly become one of our favorite ways to generate income online.15. Make Money Teaching English Online
Have you heard of VIPKID? Here's a snippet from their site that explains a little more about them:VIPKID provides an international learning experience to children in China between the ages 4-12. Headquartered in Beijing, the company offers fully immersive one-on-one English language instruction provided online by highly qualified teachers. The curriculum is based on the U.S. Common Core State Standards and uses a flipped-classroom approach to foster creativity and critical thinking skills.For just 90 minutes a day, you can easily make over $500 per month. All you need is a Bachelor's degree and English classroom experience.More information on VIPKID:VIPKID teachers make between $14 and $22/hour.All classes are taught online via webcam.Bachelor's degree required for all teachersFor perspective, Forbes has VIPKID as the #1 work-from-home company on their list from 2018. That's pretty high honors for the remote gig, and it speaks to the flexibility and legitimacy that VIPKID offers as an online income opportunity.16. Become a Web Designer
If you have a knack for computers and an eye for design, you can easily make $1,000 or more each month by building websites for small businesses.We paid a designer over $6,000 to custom code our website theme. From branding and color schemes, to ease of use and user satisfaction, web designers are the ones responsible for bringing a website to life.If you'd like to learn more, check out this article by Creative Market on how to become a web designer.Adobe Photoshop and Adobe Illustrator are essential pieces of software you'll need to master, and proficiency in HTML, CSS, and JavaScript are a must.If this sort of geek-speak inspires you, a career in web design is right up your alley.17. Become a Transcriptionist
Along the same lines as online freelance writing or proofreading, transcription is a service-based skill that allows you to make money from anywhere in the world.Also alluring about the location-independent job is the fact that you can often start with very little or no prior experience, and the pay is relatively generous.Transcribed material is typically derived from one of three categories: general, medical, and legal.Companies that conduct in business in the medical or legal realms may require that you have some knowledge or experience in the respective field.Transcription FAQsWhat does a transcriptionist do?Most often, transcriptionists are independent contractors who listen to audio (or video) files and then transcribe the spoken word into written content. This most commonly appears in the form of typists creating electronic content, but some companies need handwritten material depending on the arrangement.How much do transcriptionists make?Hourly figures typically range between $10-$20 per hour for beginners and $20-$30 per hour for intermediate and advanced transcriptionists.What equipment do I need?Most freelance transcription jobs require a quality headset, stable internet, and a laptop or PC with word-processing software. Other optional equipment includes an ergonomic desk and chair, typing-software enhancements like TextExpander, and a dictionary of common Medical or Legal terms.How can I get started?Jumping into the field is relatively simple. Most prospective transcriptionists start by taking an online transcription course that teaches them the skills necessary to perform common job duties. Companies, such as Transcribe Anywhere, offer classes that teach students the basics of general, medical, or legal transcription, and just as importantly, how they can go about finding clients for work.Transcribe Anywhere recommends a self-paced study time of 2-4 months for their General Transcription: Theory & Practice™ course, but motivated students can complete the course in a shorter time if desired. "Levels" for their flagship courses range from $127 to $697.Want to learn more but can't commit to a paid course? Transcribe Anywhere also offers free mini-courses in general transcription and legal transcription to see if either field is right for you.If you are looking to earn serious income online, it might be worth going "all in" and starting your own online business.In most cases, owning an online business won't help you get rich overnight. And further complicating the matter is that most businesses require real skills, a significant time investment, and most likely a cash investment, too.If we haven't scared you away yet, here are a few options that can eventually lead to a full-time income online.18. Start a Blog
Do you feel like you have a message to the world, but don't have a platform to deliver it?Maybe it's time for you to start a blog.DollarSprout started in a small apartment as an outlet for two college buddies to talk about all things personal finance. Fast forward a few years and DollarSprout is now a team of entrepreneurial money nerds helping to educate others on the topic of money management.What started as an online side hustle turned into a full-fledged business endeavor.Here are some of the many ways bloggers make money:Selling advertising spacePromoting affiliate products and earning commissionsSelling their own digital products and coursesSponsored content, and more.Starting a blog is easy, but turning your blog into a successful business takes months to years of hard work, patience, and a continual willingness to learn.If blogging sounds like the side hustle (or full-time business) of your dreams, we've put together a helpful guide to get you started.Here's a quick rundown of the process:1️⃣ Find your niche. Start with something you're passionate about (no need to be an expert).2️⃣ Set up your blog. We recommend HostGator (it costs as little as $2.75/mo).3️⃣ Start writing content that helps readers solve a problem.4️⃣ Build an audience. Pinterest is a great starting point.5️⃣ Start to Monetize. Ads, affiliate marketing, products — it's up to you!Want to see how we built a $1,000,000+/year blog? In this FREE 7-day email course, you'll join 50,000+ other readers in:Seeing the exact steps we took to earn our first $1,000 blogging (and beyond).Starting your own blog (and learning how to write epic, money-making content).You're in! Check your inbox for your first lesson.19. Make Money with Facebook Ads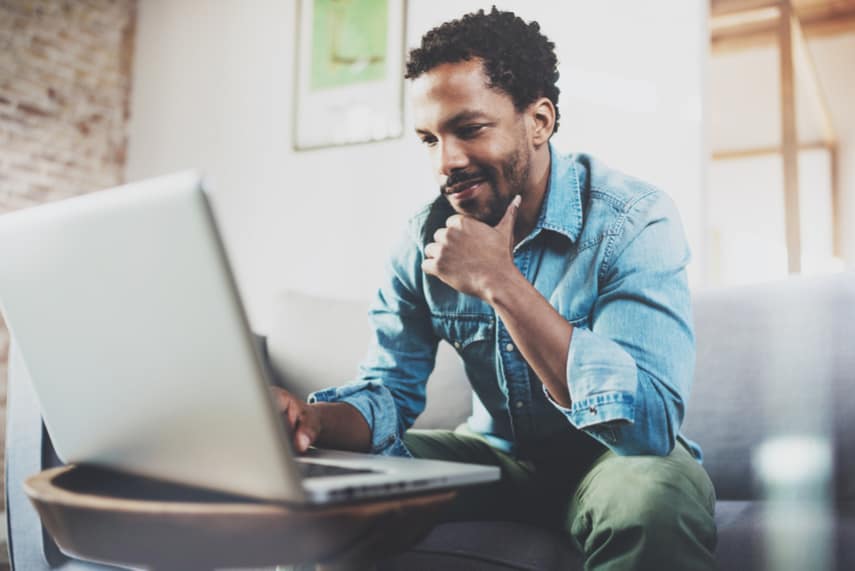 Facebook ads — we've all seen them. Thousands of times even.A new pair of shoes. A new car. Whatever item you merely thought about just 3 minutes prior. (Seriously, they're creepy sometimes.)But have you ever stopped to think about the other side of the equation? Like, who is responsible for creating the oh-so-good looking ads that you see and just have to click on?Odds are, it's someone just like you. It's not like you learn how to create Facebook ads in school. It's a post-secondary skill that you learn through lots of trial and error, or by having a mentor to guide you through the process.The best Facebook ad creators are ones that can put themselves in the shoes of a prospective buyer and sell them on a story. A story that helps a customer envision themselves using a product, and one that doesn't end until they hit the "buy" button.What exactly do Facebook ad specialists do?Facebook ad specialists help businesses get more customers and sales.
Think about how many local businesses are in your area (not giant retailers like Walmart or Dick's Sporting Goods, but local coffee shops, chiropractors, law firms, etc.).Chances are, most of them are not taking advantage of Facebook advertising.These businesses may have a Facebook page, but most are not using them effectively to attract more clients or drive more sales via paid advertising.That's where you can come in as a Facebook ads specialist. The best part about this work-from-home job in addition to its flexibility is that learning the art and skill of Facebook ads isn't impossible. Anyone can pick it up and secure their first client within a month.Local Facebook ads experts help their clients with:Creating Facebook ads based on business goalsReaching their target audience/clienteleManaging advertising budgets and monitoring campaignsSplit testing ad variations to get the highest ROI (return on investment)How much do Facebook marketers make?This all depends on the results that you can deliver for your clients. Most Facebook ad agencies — even one-man shows — will usually charge a monthly retainer as their "management fee" for managing the ads.It's industry standard to charge anywhere from $1,000 – $2,000 per month per client, and you don't need any website or marketing experience to get started. This is in addition to the ad spend itself, which obviously goes directly to Facebook.As you bring on more clients and build a reputation in your community for delivering outstanding results, your income can quickly increase. It only takes a handful of clients to start building a full-time income.How to become a local Facebook marketer:The FB Side Hustle Course will show you how to manage Facebook ads for local businesses, step by step.In the course, you'll master the three phases of building your work-from-home Facebook ads business:Learning how to set up a Facebook ad system for a local businessHow to find prospects who will pay you for this serviceHow to convert those prospects into clientsIf you want to learn more about Bobby and Mike's backgrounds and how they've built their Facebook ads business, you can check out their story here.20. Start a Drop Shipping Business
The drop shipping business model is taking the internet by storm right now, and for good reason. It's a legitimate online business model and requires very little startup cost.What is drop shipping?In the words of Shopify,Dropshipping is a retail fulfillment method where a store doesn't keep the products it sells in stock. Instead, when a store sells a product, it purchases the item from a third party and has it shipped directly to the customer. As a result, the merchant never sees or handles the product.If blogging isn't your thing but you still want to start an online business, starting an e-commerce site is another option to consider.If you didn't gather from the Shopify explanation, the premise of drop shipping online is simple. You create a storefront, arrange product sales directly between a manufacturer and a consumer, and collect on the margins created by being a middleman.
If you get good at driving web traffic to your storefront (using paid methods like Facebook Ads), you can score a healthy ROI on high-margin products.In fact, there are dozens of people all over the world that have made tens of millions of dollars doing exactly this. Now, their results aren't typical, but it goes to show that sometimes there is value in mastering a skill outside of a traditional career path.If interested, Shopify frequently offers free workshops designed to teach you the basics and how to get started.The items in this section all require an up-front cash investment but offer the opportunity for your money to make you even more money — all online. If you are financially able to, building up passive streams of income is a key part of accumulating wealth.21. Earn Money as an Airbnb Host
If you want to get your feet wet in the renting business, Airbnb is a great way to get started.If you own your home, or your landlord permits it, you can earn money online by sharing your home with others.Here's how it works:Create a free listing: Describe your space, how many guests you can accommodate, and add photos and details.Pick your price: What you charge is always up to you.Get paid: You can be paid via PayPal, direct deposit, or wire, among other ways.So just how much money can you expect to make? According to Airbnb, the average host makes $6,000 per year. To get an even more accurate quote, check out Airbnb's homepage.That's a lot of money for letting someone else sleep in your house while you vacation or spend time elsewhere. More impressively, some hosts have made as much as $200,000 renting out their pad while living somewhere cheaper. If you're apt to switch up living arrangements to make a little cash, this seems like a no-brainer way to do it.22. Invest in Crowdfunded Real EstateMany people consider real estate investing one of the best ways to accumulate wealth. The problem is, it usually takes a good bit of money to get started.Luckily, there's a way to invest in real estate without buying entire properties yourself.Introducing Real Estate Investment Trusts (REITS)A REIT is a pool of money, managed by financial professionals that goes towards investing in real estate. Investors put money into the REIT, the REIT buys properties, and the returns go back to investors.The best part? You don't have to worry about handling the landlord duties.Most REITS still require a hefty investment to get in, but we found a place that has just a $500 minimum investment to get started. With Fundrise, you get access to dozens of solid, value-producing assets.How to invest with Fundrise:Invest directly in a real estate portfolio that a team of professionals identifies, acquires, and manages on your behalf.8% to 12% expected annual returnsRead our Fundrise Review here or watch the video below.All-in-all, it's an ultra easy way to diversify your investments and get exposure to a market that may have been previously inaccessible.23. Rent Out Your CarHow much downtime would you say your car has each week while you're traveling, at work, sleeping, or just hanging out at home?According to Getaround, most cars in the U.S. sit idle for up to 22 hours per day. That's 22 hours a day you can lend your vehicle to someone else and get paid to do it.
As a Getaround participant, you also get access to premium parking and a $50 monthly rental credit in addition to the money you make renting out a vehicle.With $1 million in insurance coverage, your property is in good hands.To get started, just register for a free account, name your car, set the location and availability, and enter a description.If you decide to stick with Getaround after the 30-day free trial, you'll pay a one-time fee of $99 for a Connect™ installation and a flat fee of $20 per month. The Connect™ allows renters to locate and unlock your car straight from the app so you don't have to deal with lost or stolen keys. It also comes with added security features like tamper detection, GPS tracking, and engine lock.You'll also get a digital key so you can access your car any time and unlock it from your phone. If you ever have issues, Getaround is there for you with 24/7 roadside assistance and customer support.Rental earnings accrue on a monthly basis and are paid on the 15th of the following month. Getaround keeps 40% of all earnings to cover the costs of insurance, 24/7 support, and other perks.Visit here to try Getaround free for 30 days.24. Invest in Dividend-Paying StocksIt's been said that the average millionaire has seven streams of income. Dividend stocks are usually one of them.What are dividend stocks?
Usually when you buy stocks, you do it with the intent to buy low and sell high. Dividend stocks work the same way, but with one other benefit: just for owning the stock, you get a small portion of the company's earnings.So with dividend stocks, you get paid when the stock goes up in value, and when dividends are paid out.If you are looking to get started with dividend investing, or any stock market investing, consider checking out Acorns. It's a beginner-friendly app that can help you get started with investing using just your smartphone.Better yet, Acorns is now offering a $5 sign-up bonus if you open a new account. After registering, Acorns will deposit a free $5 into your account to give your investments a head start.25. Try Peer-to-Peer LendingIf you have cash on hand and are looking for a high-interest rate investment outside of your retirement account, consider peer-to-peer lending (AKA P2P Lending).What is peer-to-peer lending?Peer-to-peer lending is a financial system that matches prospective borrowers with investors that are willing to fund their loans. It's like traditional lending but without a bank as the middleman. As an investor, you take the bank's place in the equation and collect interest payments on the process.
How much money can you make?It depends on what types of loans you invest in and how much money you invest with. If you play it safe, you can expect to make 2-5% per year, whereas riskier loans can pay as high as 12% or more.Lending Club is one of the largest online P2P Lending marketplaces: Open an account and transfer as little as a $0.01 minimum initial deposit.Build your portfolio: Invest in a range of loans in increments as little as $25.Get paid: Receive monthly payments as borrowers repay their loans.99% of Lending Club investors with a 100+ note portfolios earn positive returns.When the interest rates of cash equivalents (short-term bonds, money market funds, etc.) are depressed, peer-to-peer lending presents a profitable alternative to just letting your cash sit idly by.We live in an age where there's an opportunity to make money online at every corner. That said, you can't just leave your computer unattended on your desk and expect your bank account to grow.Unless you have money to invest, you have to put in some good, old-fashioned hard work.Keep experimenting, keep learning, keep putting yourself out there, and eventually you will find the right online money making opportunity for you.See Also: 40 Creative Ways to Make Money Fast Author
Hi! I'm Megan. I'm a personal finance enthusiast on a mission to help millennial men and women understand and make more money. Along with writing and editing content, I work one-on-one with individuals as a financial and behavioral money coach. 543,825

Source